Cassie Steele on Season 2 of 'The L.A. Complex' & Her Big Break
The L.A. Complex is getting even hotter now that season two has arrived. Star Cassie Steele, who plays aspiring actress Abby Vargas on the Canadian drama about the twentysomethings who inhabit a Los Angeles apartment building, recently spoke with me about what's to come. "It's a lot edgier than last year," she said. "I'm looking forward to everyone's reaction to it."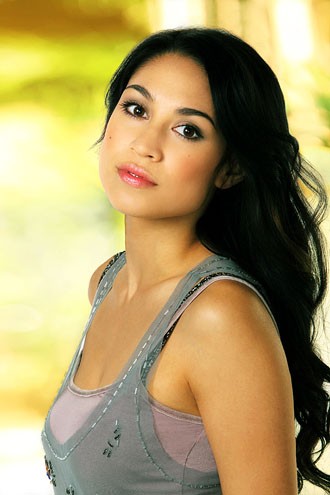 Among the things Cassie has enjoyed about the second season are the arrival of new characters Beth (Dayle McLeod), Simon (Michael Levinson), Brandon (Brett Dier) and Laura (Megan Hutchings), as well as Abby's being cast in a Christian TV series. She called the latter "really different from the other role that Abby had [in season one] which was the prostitute role. It's kind of the polar opposite of that. I'd like to see Abby deal with a character that she wasn't comfortable playing."
The best perk of the job? "The people," she said. "I've been working with some of the crew for most of my life, really, so over a decade. I really like that it's kind of like my home away from home."
While Abby continues to strive for her "big break," Cassie shared with me what her own journey toward stardom was like. "I feel like I just fell into it [and] now I realize how lucky I was," she explained. "I knew that I really liked acting and being on camera and singing. When I was growing up there wasn't ever a point where I asked myself what I wanted to do in life. I never had that moment where I was worried about where I was going." She eventually landed the role of Manny Santos on Degrassi: The Next Generation, as a regular through the show's first nine seasons.
As for her major influences along the way, "My dad probably gave me the best advice growing up. I think it's really just keeping your cool in situations and learning to balance everything."
That ability to balance comes in handy as Cassie is not only an actress, but also a singer, having released two albums in 2005 and 2009, and an EP this April. "People ask me all the time which I would prefer doing more, but I honestly can't say," she confided. "When I'm filming, I'm like, 'No, this is my favorite,' and when I'm writing music and recording and performing, it's like 'This is definitely it.'"
Cassie's career aspirations are the kind of thing Abby would be proud of: not looking toward grandeur but rather working with others who've been where she has been. While there are "so many" people she looks up to, "There's so much undiscovered talent. I feel like everybody needs to have a chance," she said. "I'm just looking forward to meeting new people."
"I feel like my life is pretty much on display," she added. "So much of it is working and that's really all I want to do. I'm an open book."
The L.A. Complex continues tonight at 9 PM ET/PT on The CW.
You can follow Cassie on Twitter (@CassandraSteele).For more from Brittany Frederick, visit my Starpulse writer page and follow me on Twitter (@tvbrittanyf).
(c)2012 Brittany Frederick/Digital Airwaves. Appears at Starpulse with permission. All rights reserved. No reproduction permitted.