Cassandra Peterson Talks Vampire Cruise, Elvira Fandom, And Upcoming Memoir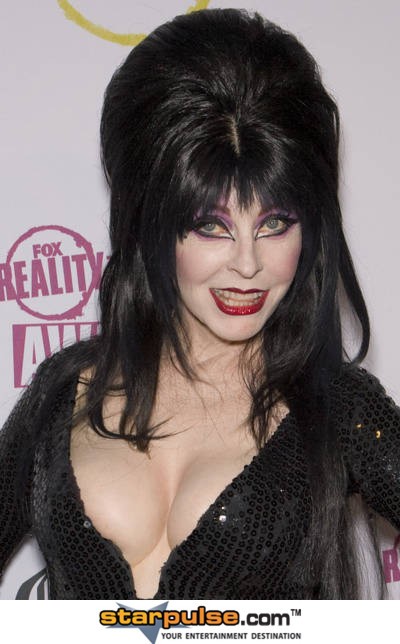 Definitely.

Cassandra Peterson: And drag queens. They really did teach me everything I know, honestly. I was hanging out with drag queens since I was about 14 and learned so much about dressing, makeup, walking, just everything. Look at my hair for God's sake. It's drag queen hair. My best friend at the time, who has since passed away, designed the whole Elvira look. He drew a picture of how I should look. He was a gay man and all of his idols growing up were combined to create Elvira. He loved Ronnie Spector from the Ronettes and her hairdo. I used to think she couldn't have worn her hair that big. Then I saw a couple of pictures of her online and she made my hair look flat on top. So yeah, Elvira is a bit of a drag queen. I was influenced by drag queens all my life and now I'm influencing them.  

Outside of Elvira you've had a wild adventure from being a showgirl to being sought after by Hugh Hefner. Will you ever write a book about your life?  

Cassandra Peterson:  I was just talking about this with a couple of people yesterday. I've got to get on that and start doing it because I've been putting it off forever. I'm always thinking I'll do it when things slow down, but they never do. I have to start writing it sooner than later. I'm just getting asked about doing it too much. It would also be nice to do it while I'm still working and people can see me. It's just finding the time. I wrote three little novelettes and my God, it's the most time consuming thing I've ever done in my life! Writing takes up a lot of time and I don't have much of it. I need to find it, so I guess I will.

They say the most important lesson you need to know on writing is to just write.

Cassandra Peterson: Exactly, just sitting down and doing it, I know. I have something blocked in my head about doing it, I guess. I think it's the thought of my mom and daughter reading it. I think I've been waiting for my daughter to grow up and my mom to pass away. I don't want to kill her (laughs). There's quite a bit of juicy stuff there. I'm just going to go for it.  

Does it ever get tiring being two people, especially when one of them happens to be a pop culture icon?

Cassandra Peterson: I don't know if tiring is the word. It's actually the best thing about my job. I get to be two people, one much more outrageous and wacky, and one a lot more normal, a mother and a regular person. When I want attention and excitement, I just put that dress on and get all I can handle. And then when I want to kick back, there's me. Nobody notices me. I can run around here and there. When I go shopping, nobody pays attention to me. It's great.

Does your love for music still play some sort of role in the work you do today?

Cassandra Peterson: I love music. I listen to it all day and I check out bands when I can. My 17-year-old daughter is a guitarist and she's always turning me on to new bands. I've met so many musicians over the years who are now friends, like Jack White. He got the theme song for my television show put together for me. It's funny how the Elvira character falls into the same groove as Alice Cooper, Rob Zombie, and Marilyn Manson. Even though I'm not a musician, I do get invited to do openings for their shows. Music has always been a part of my world and I love it.