Cassandra Peterson Talks Vampire Cruise, Elvira Fandom, And Upcoming Memoir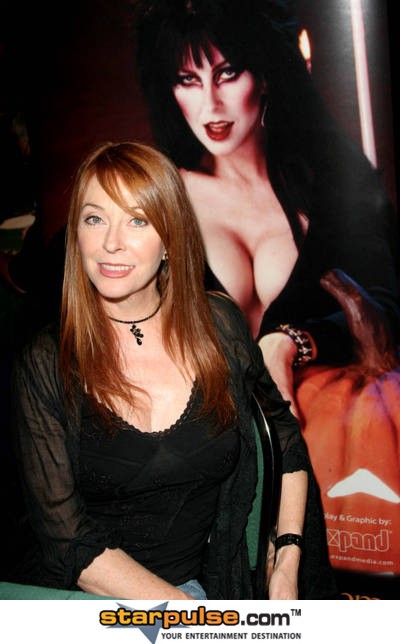 Who says you need to wait until Halloween 2012 just to experience one of the spookiest nights of your life? Elvira, famously crowned as "Mistress of the Dark," is set to deliver the frightening festivities a few months early with a special treat: a summertime Vamps at Sea Cruise to Alaska, taking place June 23rd-30th. For an entire week, fans will get to spend their days and nights with the buxom brunette. It's a first for the sinfully seductive vamp, but fortunately, she has more tricks up her sleeve for the New Year. Her alter ego, Cassandra Peterson, is finally going to work on her highly sought after memoir. While her character Elvira is a pop culture icon, few people actually know about Peterson's wild ride to success, including a steamy encounter with Jimi Hendrix, becoming a Las Vegas showgirl before turning 18, getting life-changing advice from Elvis Presley, and transforming into one of the most recognizable women in the world. In time for the New Year, we chatted with Peterson from a secret location about her upcoming cruise, the book everyone has been waiting for, and why she thanks drag queens for teaching her everything.  
What made you want to embark on a journey to Alaska with fans?

Cassandra Peterson: I'm still wondering about that! I wanted to go out to Alaska and I've never been on a cruise. But trapped on a boat with my fans? I don't know (laughs). I thought about it for a long time and I actually think it will be lots of fun because I have some of the best fans ever. I meet them all the time and they're fantastic. I think it's going to be smooth sailing.  

How do you plan on making this trip the most unforgettable and ghoulish experience they'll ever have?

Cassandra Peterson: Well…I'm going to be hosting some horror movies, signing lots of autographs, and when I get thirsty I'll be sucking their blood. Just kidding, I won't be doing that. Well I might, you never know, depends on how they look. I think it will be a really fun trip. There will be other celebrities on the boat, including Nelsan Ellis from 'True Blood' and Bram Stoker's great grand-nephew, Dacre Stoker. There's also going to be a great selection of other people who are involved in the vampire genre. However, Elvira is not exactly a vampire. I'm definitely in the vampire world. I certainly have hosted enough vampire movies and I know a great deal about them, but there's going to be a lot of different activities for everyone to do, including auctions, talent shows, scary karaoke, trivia contests, and a week-long scavenger hunt, which I love. It's going to be all around the macabre, strange, and what you call bizarre. I think my fans in particular will like it.

Elvira's popularly among men and women seems to get bigger every year. In your opinion, why do you think this is the case?

Cassandra Peterson: I don't know exactly! It's been great though (laughs).  I think I've had a lot more visibility in the last couple of years in doing appearances, a recent television show, and releasing a lot of products for people. The longer time goes on, the more she becomes a legend. Not so much a person, but something that's been around for many people. She's become the Santa Claus of Halloween.  

Who happens to have a nice set of boobs.

Cassandra Peterson: Yeah! There you go. They're a big bonus. Elvira is a sexy image people have grown up with, like Bettie Page. I like to say Elvira is a combination of spooky, sexy, and fun. Each one of those brings in a different group of people. You obviously get your horny ol' men and gay men who love the character for her sexiness and humor. You also get kids and teenagers for the goth aspect. Then there are women who love the character and view her as somewhat of a role model. Even though Elvira's pretty wacky, she's also a strong female who doesn't take crap from anybody, especially men. A lot of my female fans who grew up with Elvira love that aspect about her.  

I read that you learned everything you needed to know from Elvis and drag queens.

Cassandra Peterson: I don't know if I learned everything from Elvis, but I definitely got great advice from him. At the time I was the youngest showgirl in Vegas and if it weren't for Elvis, I would now be the oldest showgirl in Vegas history. I thought I had made it. It went all downhill from there (laughs). Elvis was the one who convinced me I could go further, instead of just staying in Vegas and dancing. It made a big impact on my life, obviously. Coming from Elvis you're going to take his advice, right?