Carrie Underwood's Dream Wedding - Exclusive Photos Only In This Week's 'People'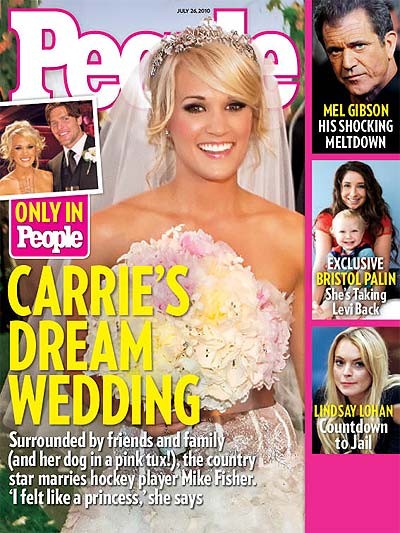 This week's issue of PEOPLE features exclusive photos of country star Carrie Underwood's pink-hued fantasy wedding to Canadian pro hockey player Mike Fisher at the Ritz-Carlton Reynolds Plantation resort in Georgia last weekend. Surrounded by friends and family (and her dog, Ace, dressed in a Swarovski crystal-encrusted pink tuxedo), the former American Idol finalist, 27, wore a Chantilly lace and silk organza Monique Lhuillier gown and dazzling tiara made of more than 40 carats of diamonds (a wedding gift from the groom) while exchanging vows with the Ottawa Senators center, 30, beneath an arbor of birch trees and roses. "I was sad because she's my baby," says the singer's mom, Carole. "But I always said a prayer she'd find the right person, and I know she did."

"My sister told me if I feel like tearing up, say the Pledge of Allegiance," Underwood tells People. "I must have said it 20 times that night!" At the end of a ceremony that included the couple's favorite scripture passages, traditional vows, and an eagerly awaited pronouncement of husband and wife ("I was like, 'Just say it, just say it!'" says Underwood), Fisher bent down to kiss his bride, and their 250 guests erupted in applause. The only objector? Ace, who had trotted down the aisle with the ring bearer and flower girl, "was barking at us like mad," says Underwood. Adds Fisher: "We were laughing, everyone was laughing, and Ace was barking." Adding "Yes, she will be Carrie Fisher!" says Mike of his wife, who will still use her maiden name professionally.

After the ceremony, guests moved to the reception held inside the hotel ballroom, which was dripping with 5,000 crystals and decorated in a "very elegant, very girlie" setting for the four-course dinner and dancing, Jayne Bubis, the couple's wedding planner, tells People. Of the monochromatic color scheme, "Mike was like, 'There's pink everywhere!'" Underwood says with a laugh. "There was pink lighting and pink things hanging from the ceiling, flower balls and ribbon and sparkles," adding that her pooch "looked so handsome," in his little pink tux. Painted hockey pucks bore the guests' table assignments, while the wedding cake was a cupcake tower made by one of her bridesmaids, Ivey Childers, owner of IveyCake bakery in Franklin, Tennessee.

While the guests nibbled on sushi and crispy risotto lollipop hors d'oeuvres, Underwood changed from her "girlie, dainty" gown to a strapless Lhuillier cocktail dress. "The wedding dress was huge," she says. "I wanted to get my boogie on, so I had to change." For the couple's first dance, Underwood surprised Fisher by getting contemporary Christian singer Brandon Heath to perform "Love Never Fails," a song that's "really special to us," she says.

"They are just madly in love," says Bubis. "They didn't leave each other's sides all night." Certainly not on the dance floor after a deejay started spinning a mix of country and pop music, from Lionel Richie to Guns N' Roses. "Everybody was dancing and acting the fool," says Underwood, who celebrated with her new husband into the wee hours. "The night exceeded all the hopes I had. It was a great party." (Cover Story, Page 68)

Also In This Week's 'People'

Bristol Palin Back With Levi Johnston: "Hopefully We Will Be A Family"
Mel Gibson: Friends Say He Is "Like A Lost Boy" Without Ex-Wife Robyn
Lindsay Lohan: "Scared Out Of Her Mind" Of Doing Jail Time
Reese Witherspoon & Jim Toth: "They Balance Each Other Out"

All this and a whole lot more in the July 26 issue of People, On Newsstands Friday, July 16, 2010!
Click for more great Carrie Underwood pictures: