Carrie Underwood Talks New Album & Shows Off Her New Hairdo At Inaugural iHeartRadio Festival (Pics & Video)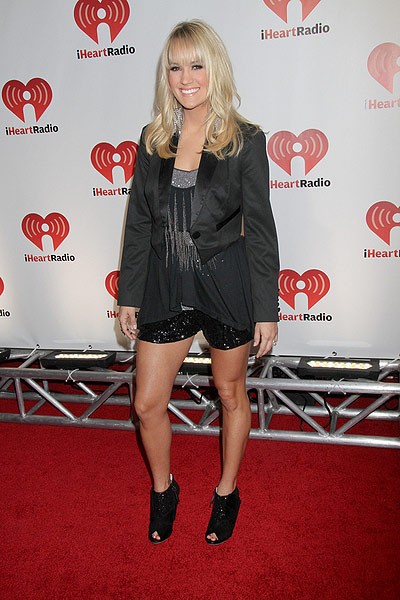 Carrie Underwood showed off her new hairdo Friday night at the inaugural iHeartRadio Music Festival at the MGM Grand Garden Arena at the MGM Grand Hotel and Casino in Las Vegas.

The star, looking sexy as usual, sported a pair of black sequined short-shorts with a silver & black top and a pair of peep-toe boots to complete the look.

Carrie performed a number of her hits during her set at the festival; which also saw performances from Coldplay, Bruno Mars, Jane's Addiction, Alicia Keys and fellow American Idol winner Kelly Clarkson.

The event was hosted by Idol's very own Ryan Seacrest.

"This was just such a cool thing. The lineup - when they had half the people on there, they asked if I wanted to be a part, and I was like, 'Um, yeah!'" Underwood tells Billboard.com. "I would love to be your average joe in the audience tonight and tomorrow night."

Carrie's currently got a lot going on, in addition to working hard on her fourth album - the follow-up to 2009's "Play On" - she's getting ready to host the Country Music Association Awards with Brad Paisley on November 9th.

As far as that new album goes though, she says it's about halfway complete.

"I've recorded vocal [to] six songs thus far - that doesn't mean anything, all six could go out the window [but] I don't think that's gonna happen," Carrie says. "It's all about just making the best album that I possibly can. New songs are coming in all the time -- I'm still writing, and I've recently written some stuff I'm really, really excited about, so just throwing it all in the mix and seeing what comes out on top, because I really just really really want to go for it this time."

The country star also says she's duetted with "everybody and their mother" over the last couple of years and E!'s Marc Malkin asked her if she ever plans on doing a hip-hop collaboration.

"I don't know if they'd want me... We did this sketch once in college…We said we were going to start a new music. It was country and rap and we were going to call it crap music," she said.

Check out pics & Carrie's video interveiw below...