Carrie Underwood Talks Gay Marriage & Celebrity Cheaters In The February Allure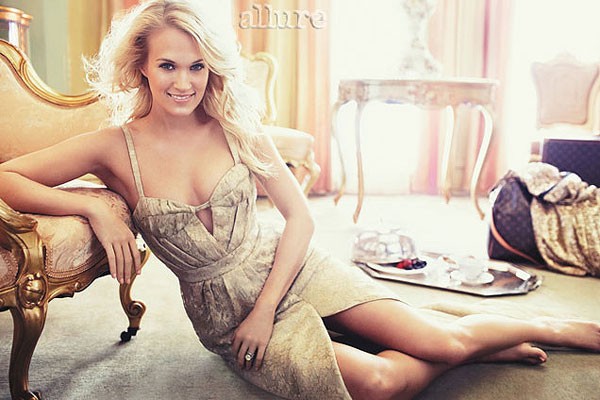 Taking some time out from her world tour, country music star Carrie Underwood made time for a stop at Oklahoma City's historic Overholser Mansion for a cover shoot and interview for the February issue of Allure magazine.

The 29-year-old country singer, happily married to Mike Fisher of the National Hockey League's Nashville Predators for two-and-a-half years, discusses why she believes her man will never cheat on her and reaffirms the controversial comments she made about gay marriage during an interview last June.

"We've seen a lot of celebrities, professional athletes, not exactly always being on their best behavior away from girlfriends, wives, families," Carrie tells Allure. "People would say, 'Do you ever worry that -- you know -- he's an athlete, he's young, he's good-looking?' And I've never had to worry about him, because I've never trusted anybody so completely. Or I didn't know the true meaning of trust. He just...he just wouldn't do that."

Underwood believes that her spouse, who she met at one of her concerts back in 2008, is her perfect match.

"[Women] want that person to be everything we've always wanted," she says. "If they're not Prince Charming, we try to make them Prince Charming. But Prince Charming does exist! I found one."

Last summer, the Baptist-raised singer made some comments about gay marriage in Britain's Independent that caused a bit of controversy in her Christian fanbase. She told the paper that she fully supports same-sex unions and couldn't imagine being told she "can't marry somebody" she loves.

"I can't imagine how that must feel," she said. "I definitely think we should all have the right to love, and love publicly, the people that we want to love."

Carrie revisited the topic for her interview with Allure; saying, "I'm in favor of acceptance. And I am a Christian person, and I do love the Lord, and I feel no matter who you are, what you believe, how you live your life, it's not my place to judge.

"I don't have that power. I don't want that power. It's my place to love and to show God's love to other people, even if they don't live a life like I live. So that's where I'm coming from."

The couple now belong to a non-denominational Christian church that's "gay friendly" she says.

"Above all, God wanted us to love others. It's not about setting rules, or [saying] 'everyone has to be like me'. No. We're all different. That's what makes us special. We have to love each other and get on with each other," she explains.

"It's not up to me to judge anybody."

Check out Carrie's full interview and see more pics in the February issue of Allure magazine; and read more at Allure.com.