Carrie Underwood Shares The Secrets To Keeping Her Long Distance Marriage Hot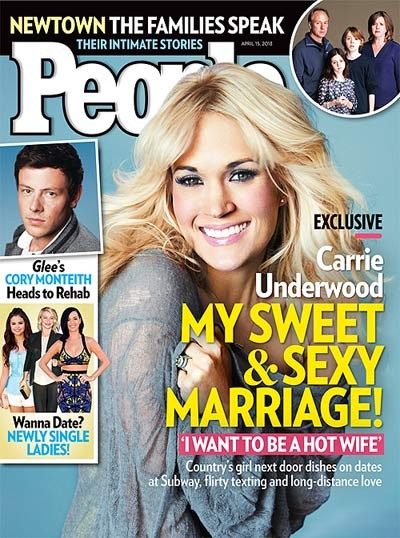 Carrie Underwood opens up in this week's issue of PEOPLE about making her long-distance marriage to NHL pro Mike Fisher work – and her dreams for a family. The country superstar is a little amazed when she looks back on her journey from Checotah, Oklahoma farm girl to six-time Grammy winner in just eight years. "So much has happened in my life; it's mind-boggling," she tells PEOPLE. "It's been crazy and fun, and there's nothing about it that I regret. And I met the man I married."

As her third wedding anniversary approaches in July, Underwood has learned plenty about the challenges of maintaining a long-distance, two-career marriage. Sometimes "I feel like I'm not able to be a good friend or a good family member or a good wife, because, y'know, I'm not there," she says. The Ontario-reared Fisher, 32, shuttles between their Nashville home base and away games during hockey season. "Everybody else always has dates to things, and Mike's flying solo," she says. "I'll come home and there's no food in the refrigerator. It makes me feel bad sometimes that I'm not there to take care of him."

She gets an emotional assist on the road from her beloved pups Ace, a rat terrier, and Penny, a dachshund mix. "I couldn't stand to be away from them for that long," she says of bringing them aboard her tour bus. "Mike complains. He's like, 'How do you think I feel?'" At the same time, "he knows [performing] is what I love, and he completely supports me in it, as I do him," she says. "But if Mike ever told me he needed me to quit, I'd quit. When you make that promise to somebody, and you stand before God and your family and friends, you've got to do everything that you possibly can to make that work."

They make the most of the time they can carve out together, even if dates are often at Subway. "We called it 'our place' when we were first dating!" says Underwood. The singer – who has maintained a 20-lb. weight loss since her Idol debut at 21 – eats mostly vegan food. "Even when he's like, 'I'm so out of shape,' he still has a six-pack," she says. Meanwhile she hired a trainer to make sure she stays in shape on tour. "It's more motivation to actually get up and work out. Having Mike there – I want to be a hot wife!" When she walks a red carpet, Fisher texts her about how sexy she looks. She texts back: "Wish you were here!"

Underwood says the biggest key to their relationship is "trust. I don't ever have to think about 'What's he doing? Who's he with?'" says the singer. "I've never considered myself the crazy girlfriend type. But there have been a couple of guys who made me crazy, and it's just because I didn't trust them. With Mike, everything was just so easy."

Until recently, "I've never been the kind to think about kids," Underwood says. "But I know Mike would be an incredible dad. Not that it's gonna happen any time soon!" Given their hectic schedules, "it would be much better if at least one of us were in a more stable situation" before tackling parenthood, she says. She looks forward to the day when they can settle into the family-friendly home they are building outside Nashville. "I know when we do have kids, it's gonna be wonderful. I'm excited about our new house and our farm. I dream about those things."


*Also In This Week's 'People'*
'People' Talks To Chris O'Dowd: "Women Try To Set Me Up With Their Sister"
'People' Special Report On Newtown: The Families Speak
Rebel Wilson's Darkest Secret: "One Day If Things Don't Work Out, I Might Be A Barrister!"
Ed Sheeran On Rumors That He's Dating Taylor Swift: "It Made Me Feel Like A Stud!"


The new issue of People magazine is on newsstands everywhere now.