Carrie Underwood Rescues Injured Dog From Highway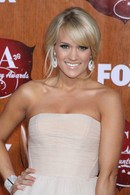 Kind-hearted Carrie Underwood can add stray saviour to her resume after rescuing a dog from a highway median and finding it a new home.

The "Before He Cheats" hitmaker was heaving home from visiting her parents over the holidays when she spotted two desperate pups who had been dumped in the middle of a stretch of freeway between her native Oklahoma and Tennessee, where she lives with husband Mike Fisher.

Underwood scooped up one of the "limping, bloody" dogs, a Labrador Retriever which she later named Stella, and took her to an emergency vet for surgery. The other pup sadly passed away.

The singer later began house-training Stella and she eventually gave up the pooch to her neighbour, who offered to give the animal a more permanent home.

In a series of posts on her fan club page, the singer writes, "I cried when she walked out the door. Mike told me not to be a crazy ex-girlfriend about it and stalk them (neighbours)... I can't help it! She deserves the best life ever!"

And she can't help thinking about the callous people who dumped the pups: "My guess is that the dogs were thrown out of their car by their owners on the highway."