Carrie Underwood Named Faith Hill's Successor On NBC's Sunday Night Football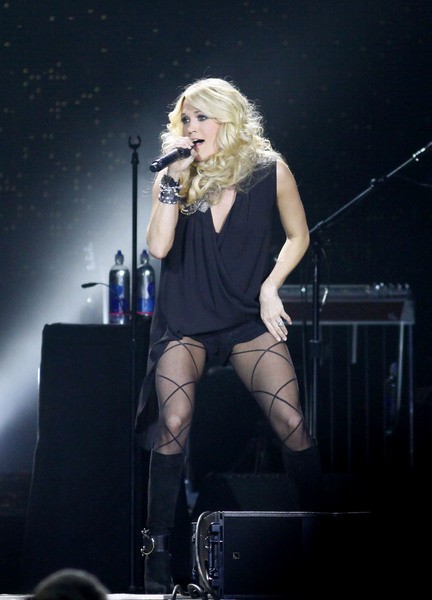 NBC announced on Tuesday that they've got another gorgeous blonde country singer to rock the network's Sunday Night Football theme song each week: Carrie Underwood.

The "Before He Cheats" singer will replace Faith Hill, who sang the network's "Waiting All Day for Sunday Night" football theme song for the last six years. Hill announced she was giving up the job last month, saying that "it's time 2 let someone else rock the open."

The song, which is a re-worked version of Joan Jett's "I Hate Myself For Loving You," was adapted weekly to reflect the night's NFL football game matchup.

"Faith Hill is family to all of us at Sunday Night Football. For the last six seasons and two Super Bowls, her opening performance of Waiting All Day set the tone for SNF and became a television staple," producer Fred Gaudelli said when Hill announced her retirement. "We will always be grateful for her performances and friendship. We wish Faith nothing but continued success."

Multiple Grammy winner and American Idol season 3 champ Underwood says she's excited to take over.

"I am thrilled to be a part of NBC's Sunday Night Football and am so honored they asked me," Carrie said in a statement. "I have always loved football season, and it is so exciting to now become part of it every Sunday night!"

Gaudelli said that Underwood was the network's "first and only choice" to performe the theme song.

"She's one of America's most popular entertainers and the perfect fit for our show," he said in a statement.

The song was first performed by P!nk during the inaugural 2006 season, which saw football return to the network for the first time in nearly a decade.

Carrie will make her debut on Sunday, September 8 for the network's first Sunday Night Footbal broadcast of the season. The game itself is between NFC East rivals the Dallas Cowboys and New York Giants.