Carrie Underwood & Miley Cyrus Sizzle In The Vegas Heat At The Billboard Music Awards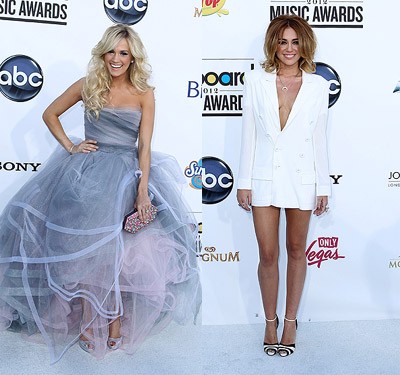 Carrie Underwood and Miley Cyrus were caught out by soaring temperatures in Las Vegas as they arrived for Sunday's Billboard Music Awards and faced some big fashion decisions.

Performer Underwood decided not to let the heat ruin her big night on the red carpet, as nothing would prevent her from wearing a stunning silver-grey Oscar De La Renta gown.

She said, "It's sweltering and I'm so hot, but nothing would get in the way of this. I've been waiting for some time to wear this dress. It's stunning."

Cyrus had to opt for a cooler look than she had anticipated, hitting the red carpet in a revealing blouse and no bra - and she revealed her hotel pool had inspired her to dress cool.

She explained, "I could see the pool from my suite and all I wanted to do was to be in the pool. It was almost cruel."

And there was no time for Cyrus to chill out after the ceremony - she was flying straight home to Los Angeles after the big bash.

She added, "I have dogs. I can't stay in Las Vegas."