Carrie Underwood Leaves 12-Year-Old Fan 'Blown Away' With First Kiss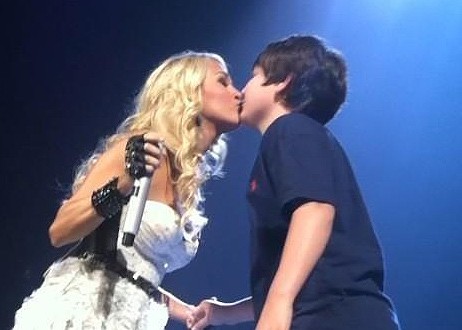 Carrie Underwood made a 12-year-old fan's dream come true Saturday night during her concert at the KFC Yum! Center in Louisville, Kentucky.

During the stop on her "Blown Away" tour, it might be said that this kid was blown away when she pulled him up on stage after seeing the sign he made for her with the message, "Will you be my first kiss?"

After asking the boy's name, which is Chase, Carrie asked him, "How are we going to do this?"

Chase replied, "Lip to lip"; and the crowd erupted with cheers. Carrie laughed and called him, "...the smartest kid I know!"

But she also warned him that her Hockey player husband, Mike Fisher was lurking somewhere backstage and might want to have a word with the boy.

Carrie later tweeted, "Thanks, Chase, for the kiss and thanks Louisville for rocking so hard tonight! We had fun! #liptolip."

It's probably a good bet that no girl will ever live up to Chase's first kiss!


Thanks, Chase, for the kiss and thanks Louisville for rocking so hard tonight! We had fun! #liptolip twitter.com/carrieunderwoo…

— Carrie Underwood (@carrieunderwood) September 23, 2012