Carrie Underwood & Brad Paisley Join Jason Aldean, Eric Church & Luke Bryan As 46th CMAs Get Underway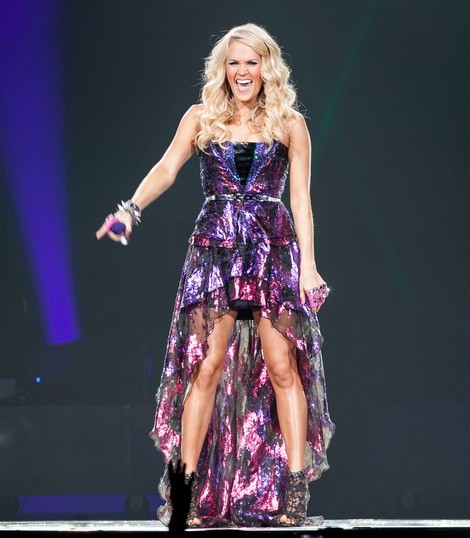 Country music's young hunks Jason Aldean, Luke Bryan and Eric Church got the 46th annual CMA Awards off to a rousing start in Nashville, Tennessee on Thursday night by teaming up onstage at the Bridgestone Arena for a patriotic opening set.

Hosts Carrie Underwood and Brad Paisley then joined forces to offer up a country ditty inspired by Maroon 5's hit "Moves Like Jagger," titled "Moves Like Haggard" - a reference to hard-living country icon Merle Haggard.

The duo then poked a little fun at Entertainer of the Year nominee Taylor Swift after Paisley pretended he knew nothing of her recent split from boyfriend Conor Kennedy.

He quipped, "Why don't I ever hear about these things? I'm always the last one to know. Are they ever gonna get back together...? Maybe she'll write a song about it."

Paisley also had a dig at Underwood for kissing a 12-year-old fan at a recent concert, joking, "He was cute before you kissed him; now he's a mess. His first kiss was Carrie Underwood. Way to peak at 12, kid. Good luck at prom."

The country couple, longtime hosts of the CMAs, also wowed the crowd with their Gangnam Style dance moves.

Paisley and Underwood then turned on the night's lifetime achievement award recipient Willie Nelson, joking that the legend would be stripped of all his CMA Awards due to "some doping charges." Nelson is a longtime marijuana user and advocate.