Carrie Preston On Her 'True Blood' Experience: 'It's Been A Great Ride'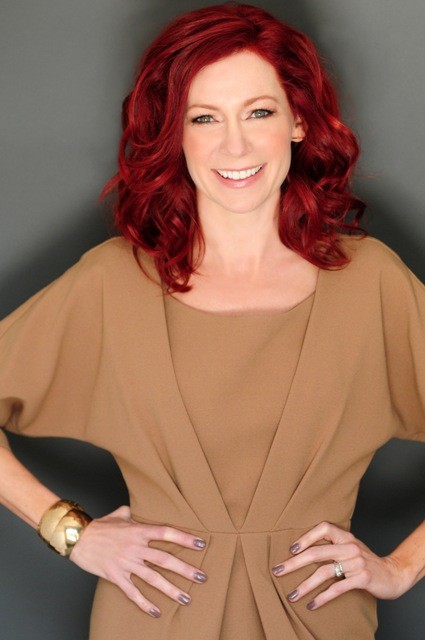 The lovely and multi-talented Carrie Preston has accomplished a lot since she first took on the role of Arlene Fowler on HBO's True Blood. She's directed feature films, won an Emmy Award for her work on The Good Wife, and created some memorable characters. We checked in with Carrie last week to talk about how True Blood has shaped her enviable career and what could possibly happen next.
When we connected, she'd just come back from appearing with her cast at San Diego Comic-Con, where True Blood once again commanded a huge audience. "I'd never been. It was a great way to go in and go out," Carrie said of the experience. "To be there with all of those fans for the last True Blood panel at Comic-Con was pretty exciting and sad and thrilling. It was a really good time."
"It's been an incredible ride," she continued, calling True Blood "the job of a lifetime. I have really been blessed to have been playing a character that had such a wonderful journey and evolution. Arlene starts off one way, and then has really deepened and expanded and opened her mind as the seasons have gone on, and I feel like the character has just gotten stronger and stronger."
In season seven, we've seen Arlene continue to have memorable moments in Bon Temps, most notably in "Lost Cause" when she becomes a confidant for Sookie after a terrible tragedy. "I was very happy that the writers brought the relationship back to life," Carrie explained. "I was very happy about that because I love doing scenes with Anna [Paquin].
"[Arlene]'s been through a lot of relationships, and maybe hasn't been able to make all of them work. Her fiance was a serial killer. She got involved with Terry, and he had some challenges with his past, and she was able to be there for him in the best way that she knew how," she continued. "She's older and wiser and it made sense that Sookie would come to her."
One thing we unfortunately won't get to see as the show comes to a close is Carrie stepping behind the camera, despite the fact that she's proven to be as talented a director as she is an actress. "I'd been so busy during the shooting that I didn't have enough time to really concentrate on that," she told us. "Nor did I feel like I was like ready to direct a show like True Blood, which is quite different than directing film. You shoot so much quicker and there's a lot more elements to it.
"But what I did do was for the finale of the series, I shadowed the director, Scott Winant, who has been with us since the beginning and that was a great learning experience," she added. "I got to be there for all of the shooting of the finale, as well as the post-production."
Here's a clip from tonight's episode of True Blood.