Carole King Says She Was Abused By Her Third Husband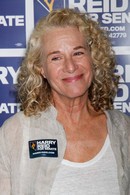 Singer/songwriter Carole King has revealed she was physically abused by her third husband, composer Rick Evers.

The four-time Grammy winner wed Evers in 1977 after the two collaborated on her album Simple Things and they remained married until his heroin overdose death the following year.

However, she admits the union wasn't a happy one and in her new memoir, A Natural Woman, she confesses her former lover had a bad temper and often struck her without reason.

Detailing one account, she writes, "Without warning he struck with his right fist, he hit me hard as if he were in a boxing ring, except he wasn't wearing gloves and he wasn't in a boxing ring."

And King, now 70, admits she's glad she included the story in her tome because she wants other domestic violence victims to know help is available.

During an appearance on breakfast show Today on Tuesday, she said, "I wasn't sure I was going to include it in the book but I wanted people to understand, people who go through that, mostly women but some men, that you're not alone."

"This is a phenomenon that can even happen to someone like me, who was successful, who had financial independence and what I learned is it's a really bad dynamic and it's very hard to get out (of)."