Carly Simon Joins Taylor Swift For A Duet Of Classic Breakup Song 'You're So Vain'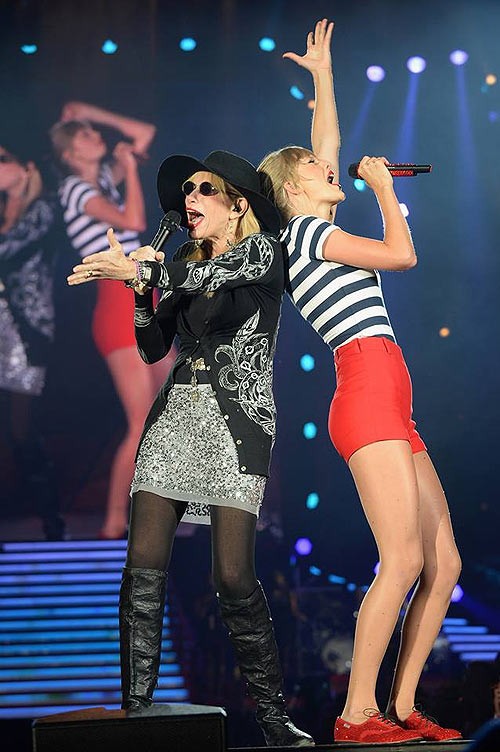 Taylor Swift was joined on stage during her Foxborough, Massachusetts concert Saturday night by singer/songwriter Carly Simon for a duet of the veteran singer's classic break-up song "You're So Vain."

The song, which has puzzled people over who it was written about for decades -- and, ironically, could describe any of Taylor's own experiences -- was a huge hit for Simon in 1972.

Prior to introducing her special guest, Taylor addressed the subject of the song by telling the crowd, "Before I bring out my special guest, I have this question that I've always, always had. I think a lot of you have probably had this question too, always wondered what the answer is.

"Who is this song, 'You're So Vain,' by Carly Simon, written about?"

Swift then called her idol out to join her on stage, where the two nailed the song together.

"Got to sing 'You're So Vain' with Carly Simon at Gillette Stadium tonight!!!!! Unreal," Taylor tweeted following the show. "I could not possibly look up to her more."

For years it was believed that the song was about actor Warren Beatty; and Simon has toyed with releasing the true inspiration for the song on several occasions.
"When I heard 'You're So Vain,' I thought, 'That is the best song that has ever been written,' " Taylor said in a behind-the-scenes clip from the show which aired on ABC's "Good Morning America" on Monday morning. "That is the most direct way anyone has ever addressed a breakup. It's amazing."
The two joked over who the song is about at the end of the video, and Taylor says she knows now, but she's not spilling the secret!
"You're So Vain" with Carly Simon:
Behind-the-scenes on ABC's "Good Morning America":
Another vantage point of the duet: