Carly Rae Jepsen Reveals How To Score Her Number & Land A First Date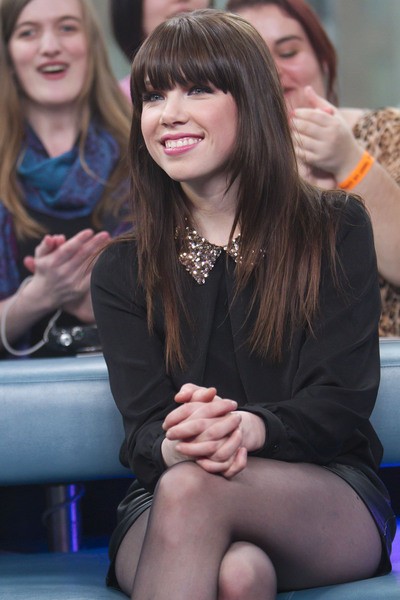 Singer of 2012's undisputed song of the summer, and the hopelessly catchy track currently sitting atop Billboard's Hot 100 Chart, "Call Me Maybe," Carly Rae Jepsen sat down with the editors of MensHealth.com for a web-exclusive interview and Starpulse has the scoop!  Read on as the 25-year-old Canadian babe reveals what it takes to score her digits, ring her up, and land that elusive first date.
Jespsen on the top three qualities she's looking for in a guy:
OK, so number one, you have to be confident—but not the cocky kind. I'm talking about the type of confidence where you're comfortable in your own body. Two: Use eye contact when you're talking to me. I think that's really important. And third is you have to have manners, because I really like a guy who's courteous and polite.
On how to get her attention:
Almost the best tactic in the world is literally just going up to me and saying, "Hi, I want to introduce myself. My name is . . . " There's something just really confident about that. I do think grand gestures are a hit and miss, especially for girls. But if you can kind of find something that you're both laughing about, or if it just happens naturally, that's obviously a really easy way to start a conversation.
On why Jepsen acknowledges in "Call Me Maybe" that giving a guy your number after literally just meeting him – is crazy:
You can't always understand if someone's into you or not, so you should never really pursue something too far without gauging that first. You need to take a little time with it and take the pressure off rather than asking, "Can I take you on a date?" It's better to say, "Hey, I'd love to see you again," or walk the girl to her car and use that time to talk. The key is to say something non-committal, so it doesn't feel so much like you have to go on a date date. Plus, in that moment, you have that extra time to convince the girl that a date would be a good idea.
On Jepsen's ideal first date:
I really think the first date should not be your typical movie/sit-down date. A first date should be an adventure. That's the key to things really starting off well. And it's cool if each person can show the other person something new. This isn't a protocol that I follow all the time, but that's how all my most meaningful relationships have started—with one of those experiences you'll never forget. Here's an example: On one of my first dates, the guy found out that I had never flown a kite as a kid, and he thought that was ludicrous. So we went kite-flying in the park, and had wine and cheese, too. It was one of those days where you're just like, "What the hell? This is so fun!"
On Jepsen's worst first date imaginable:
Well, it's never good to get completely wasted on the first date. I remember going out with a guy who was really nervous, so he just drank a lot. By the end of it, I could barely understand a word he was saying, because he was just so incoherent. So yeah, that didn't end well.
Read the full interview here:
http://news.menshealth.com/carly-rae-jepsen-call-me-maybe/2012/06/24/