Carly Rae Jepsen Makes Her Broadway Debut In 'Rodgers & Hammerstein's Cinderella'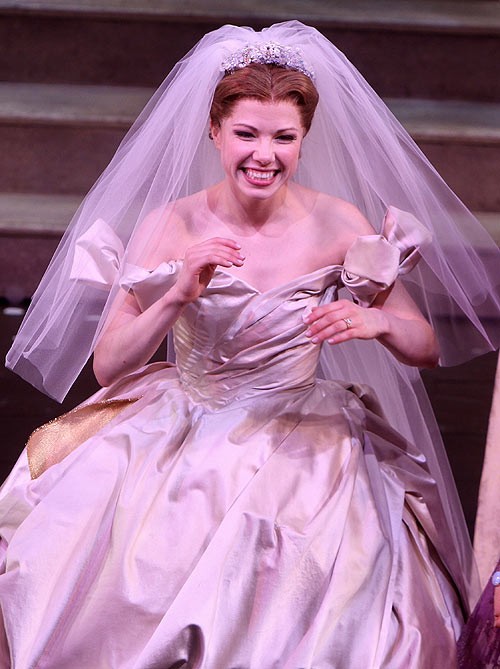 Pop singer Carly Rae Jepsen made her Broadway debut in the title role of "Rodgers and Hammerstein's Cinderella" Tuesday night.

The "Call Me Maybe" singer, who took over for Tony Award winner Laura Osnes after being named her successor back in December, looked like a true princess in a white wedding gown during the curtain call of opening night (Feb. 4).

The 28-year-old told the winter issue of New York's Paper magazine that her family is more excited about her 12-week run on Broadway than when she went to the Grammys.

"It's always been on my bucket list," she says of performing on stage. "My family is more excited about this than anything. "I was like, 'I'm going on tour with Justin Bieber and I'm going to be at the Grammys,' and they're like, 'OK great,' and then I'm like, 'I'm going to be on Broadway,' and they're like 'What?! We're going to book our tickets!'"

The Canadian native spent much of her time growing up involved in the theater, and she says her parents expected her to end up there sooner.

"It's just such a funny reaction, but I think it's because I grew up being in musicals," she explains. "It was something I was always involved in and has a passion for at a young age, so it made sense to them.

"I think they always thought that was the direction I would take and it was a bit of a surprise that I got kind of addicted to pop."

Jepsen and co-star Fran Drescher tossed coins into one of the props -- a wishing well -- prior to the beginning of the show. "Right b4 (before) curtain we both made a wish in the wishing well. Carly Rae Jepsen... whata nite!" the former "Nanny" star wrote.

Drescher plays Cinderella's stepmother in the play.

"Rodgers and Hammerstein's Cinderella" is playing at the Broadway Theatre in New York City.