Carey Mulligan 'Terrified' About Her 'Gatsby' Role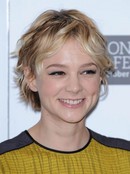 Carey Mulligan has become a nervous wreck while waiting to shoot The Great Gatsby - because director Baz Luhrmann is taking several months to cast her co-stars.

The Brit saw off competition from the likes of Scarlett Johansson and Blake Lively to win the coveted role of Daisy Buchanan in Luhrmann's upcoming adaptation of F. Scott Fitzgerald's classic novel.

She was the Aussie moviemaker's first official casting for the new project, with Leonardo DiCaprio, Tobey Maguire, Joel Edgerton and Isla Fisher subsequently coming on-board over a period of several months.

However, Mulligan admits the delay in shooting has left her feeling "terrified" as she worries about how to portray Buchanan and devours Fitzgerald's other works.

She tells Empire magazine, "(I'm) terrified, of course I am. The whole thing was always meant to happen now, it's just (Luhrmann) cast me back then and then I think he started casting everybody else. (It was) just more time for me to freak out at home on my own.

"(But) it's been so interesting, I've had so much time and I've been able to read so much Fitzgerald. I've had a lot of time to get into it so I can't wait to start."