Carey Mulligan Dressed Up As A Goth For 'Dragon Tattoo' Audition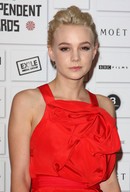 Actress Carey Mulligan missed out on the role of Lisbeth Salander in David Fincher's The Girl With the Dragon Tattoo remake - even though she turned up to her audition with the director dressed like a goth.

The star of An Education accepted she was a long shot for the role of the heavily-pierced and tattooed computer hacker but she felt it would help Fincher see her 'made-up' as Salander.

She tells the New York Times, "I had read all the books. I thought, 'They'll never in a million years cast me,' and I was right! I thought it was a challenge and I just didn't want to be associated with jobs I'd done before. I didn't want to play the same parts.

"I auditioned once with the casting director and once with David Fincher. The second time I went I went in with piercings and black make-up and skinny jeans and it wasn't obviously for me. (But) I loved the idea of it."

Mulligan admits she hasn't seen the film, which stars Rooney Mara as Salander, but she already knows Fincher made the right choice: "I don't know how it's come out but I think she is (Lisbeth). I wasn't right for that."