Carey Mulligan And Michael Fassbender Shunned One Another On 'Shame' Set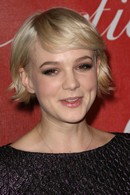 British actress Carey Mulligan refused to strike up a friendship with her Shame co-star Michael Fassbender while shooting the drama so they could remain in character as feuding siblings.

The An Education star plays Fassbender's estranged sister in the Steve McQueen movie and they made sure to keep their distance from one another until filming had wrapped in an effort to enhance their bitter portrayals onscreen.

Mulligan tells the Press Association, "Michael and I decided not to become friends because our characters are so vicious towards each other.

"So we didn't actually spend any time together. We didn't socialize and when we were at work we were very serious."