Cannes Film Festival: High Fashion, Films, A Jewelry Heist & Gun Scare?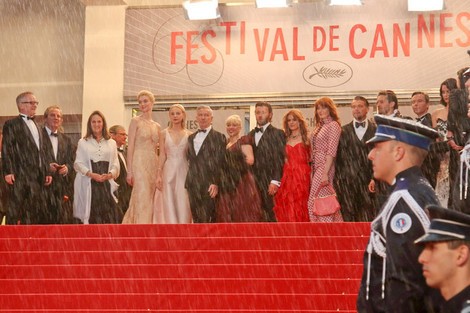 Police arrested a man for reportedly firing a gun and brandishing a fake grenade near a waterfront TV studio at the Cannes Film Festival in France on Friday.
Police quickly subdued the assailant, and no one was injured. According to the AFP, the suspect was identified only as a 42-year-old man.
Even though the suspect's firearm was filled with blanks, the incident alarmed festival goers, particularly those gathered to watch hosts from French channel Canal + present special coverage.
Presenter Michel Denisot detailed the safety threat to viewers, explaining, "He said to a woman next to him, 'If I were you, I wouldn't stick around here...' The police intervened. He had a hand grenade. There were no bullets in the gun and the grenade was a fake."
It's the second headline-grabbing incident from the festival this week, which launched on Wednesday. Early Friday morning jewelry worth over $1 million was stolen from a Chopard employee's hotel room. Several celebrities were supposed to don the Swiss gems throughout the festival.
Some of the stars who are spending time in the French Riviera this week include Leonardo DiCaprio, Nicole Kidman, Steven Spielberg and Emma Watson.