'Candidly Nicole' Episode 5 Recap 'Who's The Boss?'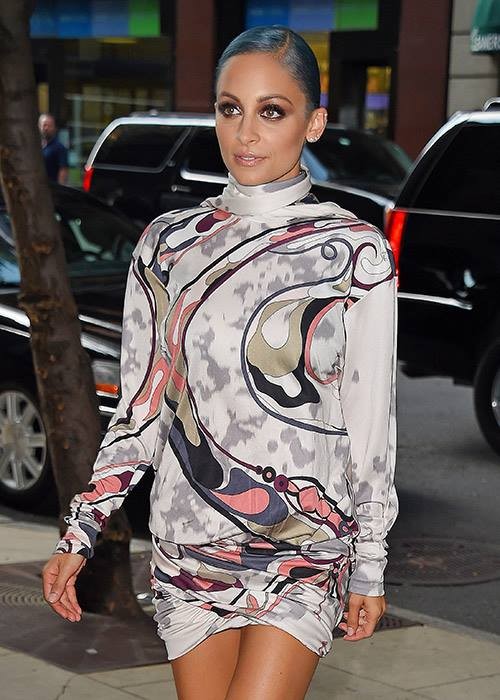 Nicole tries to find her authoritative side working at a fashion magazine.
Being a boss takes more than donning the nameplate necklace, so Nicole realizes when she takes on being guest editor of Who What Wear fashion mag in "Candidly Nicole's" fifth ep "How to be a Boss."
Nicole's sauntering into the E.I.C's office (she's the pal that landed her the gig) while she's on the phone is a big red flag of what NOT to do. Want some more? Being the main distraction that everyone stops work for. Nicole was just that for Who What Wear writers by taking selfies on a colleague's phone, stealing another's headphones to rock out to in the middle of the office, and sharing stories of how wasted their boss gets on the weekends.
The magazine's E.I.C, Kathryn, was able to break up the party in the nick of time. She drags Nicole into her office and gives dos and don'ts of office behavior. No penis jokes or mention of penises altogether. Ditch the crop tops for light weight blazers (Jewish style) and finally Kathryn informs Nicole that Who What Wear is a wine free workplace.
Armed with work place knowledge, Nicole is ready for her first assignment and working partner. While ecstatic to be working with a Peter Pan lookalike, the reality starlet isn't feeling Kathryn's assignment. The piece calls for going club hopping to find trendy girls night out styles. Not satisfied, Nicole suggests taking it a step further and find out the fashionable females dream jobs. And recruits Peter to back her up, stuck in the middle between his boss and new bestie, I'm surprised he didn't get whiplash from nodding in Nicole's and then Kathryn's direction each minute.
Kathryn eventually pulls rank and reminds Nicole Peter works for her and the assignment will remain the same.
Later on that night, Peter meets Nicole at a restaurant. He wonders aloud why they're at a fancy eatery when they should be at a turnt up club interviewing twenty-somethings with flawless smeared shirts. Before he's got time to process Nicole's going rogue M.O. she strikes up a convo with the restaurant's chef. She interviews him about his dream job and the chef pretty much says you're seeing it, baby. As soon as Peter notices Nicole changing the script, she tempts him with a cocktail Kathryn wouldn't approve of.
The following day, Nicole plays dress up with her colleagues in the fashion closet. Their bonding sesh includes fantasy runway walks, a dance party and perfecting their meow. Before they can practice purring in couture, Kathryn barges in and asks what's going on, according to Nicole, work. Kathryn kicks everyone out and asks about Peter's whereabouts. He quickly appears fresh off a beverage run with zero notes on the original fashion assignment.