Candice Swanepoel Heats Up The Turkish Landscape In A New Bikini Shoot For Agua De Coco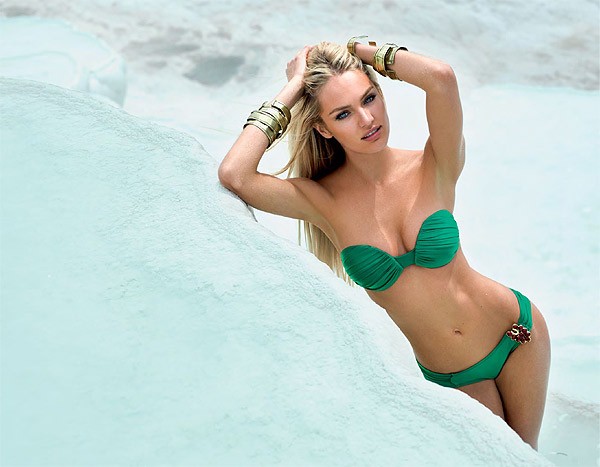 Supermodel Candice Swanepoel is the face of a sizzling new campaign for Brazilian swimwear brand Agua de Coco and recently did a photoshoot for their SS13 Catalog.

The sexy Ms. Swanepoel was photographed at the amazing Pamukkale hot springs in the Denizli Province in southwestern Turkey (Pamukkale means "cotton castle").

Agua de Coco's new "Turkish Portrait" line brings the colors and shapes of places like Istanbul and Cappadocia to the designs; which are attributed by high-waisted bottoms, monokinis, bandeaus and plenty of gold accessories.

The blonde South Africa native looks like she might be standing in ice cold water on a glacier; but the pools are actually travertine hot springs fed by underground volcanic activity and range in temperature from 95° F to boiling (212° F).

The region is a tourist attraction and shares the designation of World Heritage Site with nearby Hierapolis; an ancient Greco-Roman city in the former kingdom of Phrygia.

Read more about Pamukkale and Hierapolis at Wikipedia.
More pics of Candice start.... here!