Can We Tawk? 'The Fran Drescher Show' Premieres Friday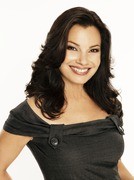 Are you ready to tawk?  Fran Drescher is, and she's excited about it.  She's rolling out 'The Fran Drescher Show,' a one-hour entertainment show developed by FOX Television Stations and Debmar-Mercury, this week. 
The talker, debuting Nov. 26, the day after Thanksgiving, will receive a three-week trial run on six FOX-owned stations in New York (WNYW), Los Angeles (KTTV), Philadelphia (WTXF), Phoenix (KSAZ), Minneapolis (KMSP) and Orlando (WOFL).  If all goes well, the show will be back full-time in national syndication in Fall 2011.
Drescher herself finds the experience "really thrilling."  In a phone interview, Drescher says the show will feature a wide variety of topics, some pop culture related, some not.  There will be celebrity interviews, as well as shows devoted to cancer survivors, bullying, the GLBTQ population and young children.  Drescher, who was herself a rape victim and is a cancer survivor, also wants to devote a show to caregivers, whom she calls the true "unsung heroes."  One show will even feature her own caregiver from when she was ill.
"The show speaks to all my passions," she says.  "I put my hand in everything.  I love creating something from nothing.  I love starting with a blank page."  Some people may be surprised by her advocacy work, she says, even though she's appeared on virtually every talk show, has written a book about her cancer experience – 'Cancer Schmancer' – and has appeared on Capitol Hill, including last summer to lobby for safer consumer cosmetic products.  She has her own skin care line, FranBrand, an all-natural cosmetics company.
As for her past adversity, she says, "I bring it to everything.  It's part of my experience, and it makes for interesting conversation."  She wants the audience to feel engaged and the show will likely feature petitions regarding current events on the show's website.  Not that the program will be all serious – quite the contrary.  She wants the show to have a "familial feel and a reality edge," she says.  One episode will feature a round table of young kids, and there will also be segments on fashion and cooking.
There is no doubt the show will appeal to women in particular.  In announcing the show in a press release, Senior Vice President of Programing Frank Cicha notes, "Fran is the perfect person to bring a new 'voice,' if you will, to daytime.  The female audience knows her, likes her, and we expect the show to bring energy and freshness to these time periods."
It's likely Frescher will have wide appeal.  Guests she'd love to have on include Rosie O'Donnell, Kirstie Alley, Maura Tierney, regular cast members from her sitcom 'The Nanny' and Rob Reiner, who will discuss legislation relating to Prop 8.  She says she'd love to feature family and friends, too.
The show will also have a live band with Grammy-winning musicians.  Drescher, who names O'Donnell, Oprah Winfrey, Charlie Rose and Jon Stewart as talk show hosts she admires, says Jay Leno called to offer a bit of advice.  "He said to put energy into the first ten minutes," she says.  She plans on a monologue to open each show, along with a Q & A period like Carol Burnett used to do.
Whatever the outcome, the show promises to be an interesting experience for Drescher, who already finds it "intellectually stimulating."  One thing is for sure: she should have no trouble filling that blank page.  "I wear multiple hats.  I have lots of opinions," she says.