Can Meryl Streep Win A Third Oscar? Ever?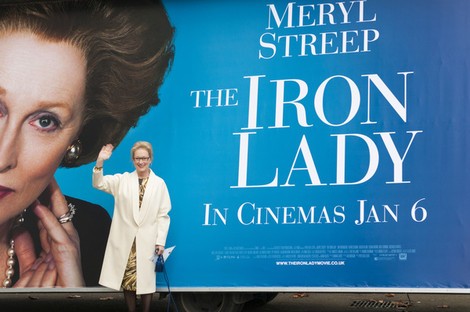 Meryl Streep hasn't won an Oscar since 1982.
Most people don't remember that because it feels like groups hand her awards like they're flyers on street corners. But she's deserved most of them, and she should probably be on her fourth or fifth Oscar by now.
This year, she has a good chance playing Margaret Thatcher in 'The Iron Lady.' The trailer alone promises that she is fantastic in the movie. Her performance has been buzzed about for months, and she's been a front-runner for the Oscar longer than any other actor or movie this year. The problem is, most of the time she's considered the front-runner first, she loses.
Why? It's hard to say. I think it boils down to just a few things.
1) She's been nominated so many damn times. That may seem like a good thing, but when Oscar voters assume she'll be nominated again next year, they figure, "Eh, she's got another chance." And so they give the award to an actress who will probably only see another nomination or two in her lifetime (Sandra Bullock), another veteran who deserves it (Helen Mirren) or the "It" girl (Gwyneth Paltrow).
2) Meryl goes after the role, not the movie.  This may seem like a minor misstep, but it's not. Roles like Margaret Thatcher, Julia Child, Sister Aloysius, etc. seem fantastic on paper. And she always delivers a powerhouse performance. The problem is, the scripts of those movies aren't always as strong, so they lack academy support. 'The Iron Lady' is not likely to be nominated for Best Picture. Neither was any of those movies I mentioned, or 'Mamma Mia!' or 'The Devil Wears Prada' or 'One True Thing.' Sandra Bullock prevailed in 2009, and is it a coincidence that her movie, 'The Blind Side,' snagged a Best Picture nomination?
3) The "Babe" Factor. As award expert Tom O'Neil points out, Academy voters tend to be old men, and they seem downright obsessed with awarding the Best Actress statuette to young women. Sometimes they are fantastic actresses (Marion Cotillard, Charlize Theron) and sometimes they make you wonder. Still, an actress in her 60s faces an uphill battle in the Oscar race. Only Helen Mirren (for 'The Queen' in 2006) can claim to be a 60+ Best Actress winner since the mid 1980s.
4) Pure luck. Most years Meryl has been nominated, there's been good competition. If she had been nominated in 1994 – when Jessica Lange prevailed for the little-seen 'Blue Sky' – she may very well have won. It can be the luck of the draw. She's probably come close several times, especially for 'Adaptation' (2002) and 'Doubt' (2008).
She just might have the momentum this year. She already won the first award of the season, bestowed by the New York Film Critics' Circle. She's likely to win several more. There's no question she will be nominated for a Golden Globe and the Oscar.
What do you think? Can Meryl win on her 17th nomination? Is she overdue for her third Oscar? And will 'The Iron Lady' break her losing streak?