Can Jeffrey Dean Morgan Do It Again? Vote In The Sweet 16! (Pt. 2)

On we move to the
Sweet 16!
Cast your votes for your favorite celebs in this third round of action in
Starpulse
's first annual "Celebrity Madness" tournament! With rounds one & two over, you've narrowed the field of 64 down to 16 and we've got 16 more matchups for you to vote on in both our men's and women's brackets!
For this round there will be two parts with eight matchups in each, four women's matches and four men's.
-Click to see the:
results of the first round
and the
results of the second round!
For more information on the "Celebrity Madness" tournament and to get updated & printable brackets, go
HERE
.
The Matchup
- Voting has ended for this round. -
Harrison Ford brought back
Indiana Jones
last year, in the fourth installment of the series,
Indiana Jones and the Kingdom of the Crystal Skull
, which some people had a lot of problems with despite it being full of that classic Indiana Jones globe-trotting action, wit and fun. So
Spielberg
&
Lucas
wrote some aliens into it, big deal. In case you didn't notice, the two are known for having aliens in their films (
Close Encounters
,
E.T.
,
Star Wars
-
hello
?) And seriously, it had to be set almost 20 years after the last one - what was he gonna do? Go fight in Korea?
16-seeded Jeffrey Dean Morgan is this year's "Cinderella" after he pulled off the biggest upset in the history of the Celebrity Madness tournament by taking out
Brad Pitt
! Sure, it's only the first annual tourney, but this feat will be tough to ever match, no doubt! Jeffrey currently stars as The Comedian in the very underrated
Watchmen
. Who cares what the fanboys and critics say, the movie was great.
Click the pic to go to the next match: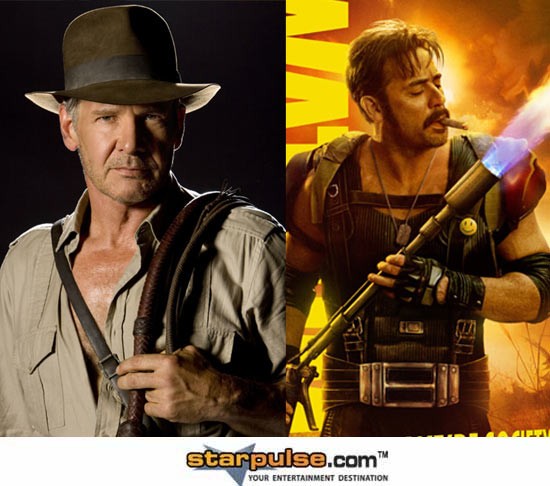 The schedule:
First Round Voting: March 19-22
Over, click here for winners!
Second Round Voting: March 23-26
Over, click here for winners!
Sweet 16 Voting: March 27-29
Elite Eight Voting: March 29-31
Final Four Voting: April 1-3
Championship Voting: April 4-6
The champion will be announced on April 7th!
Check out the full bracket of all 64 Male Celebs here, you can even print it out and keep track of winners & losers!
See the women's bracket here!