Can Guitar Hero Top Itself?

When the first
Guitar Hero
was released for the Playstation 2 in November 2005, it was met with both critical acclaim and a lot of buzz: a video game that substituted a simulated guitar for the standard controller? Why, it was unheard of! The game sold a modest 1.5 million copies and was popular enough to launch an entire franchise that has only gotten better with time.
Take, for example, the setlists. The original game, with a mere 47 songs, was composed of almost entirely cover versions. Guitar Hero II, on the other hand, contained 64 songs, four of which were actually recorded by the original bands. With a wider release that let Xbox 360 owners in on the fun, Guitar Hero II sold more than double the amount of its predecessor, with 3.1 million copies.
By the time Guitar Hero III came out in October 2007, the franchise was nothing short of a phenomenon. This increased credibility led to more bands agreeing to include their original recordings in the game, with some artists even going far enough to record songs specifically for the game. Now, with the fourth installment (with the exception of Guitar Hero Encore: Rocks the 80s and the upcoming
Aerosmith
edition) set for release later this year, it's no doubt that the setlist will be nothing short of amazing.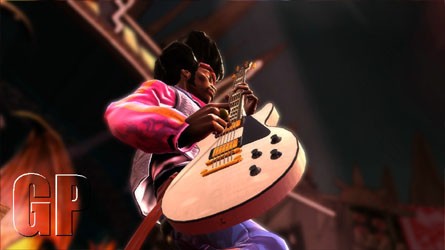 However, it will be difficult to top what they've done so far, at least in terms of songs. Guitar Hero II had some of the most quintessential rock songs ever, including
Black Sabbath's
"War Pigs,"
Guns N' Roses
' "Sweet Child O'Mine,"
Lynyrd Skynyrd's
"Free Bird,"
Avenged Sevenfold's
"Beast and the Harlot,"
Rage Against The Machine's
"Killing in the Name,"
The Police's
"Message in a Bottle,"
Dick Dale's
"Misirlou,"
Iron Maiden's
"The Trooper," and
Van Halen's
"You Really Got Me." Though none of these were the original recordings, the cover versions were so well done that it was nearly impossible to tell the difference.
But just when it seemed like the series couldn't get any better, Guitar Hero III really brought down the house with what was truly the greatest group of songs ever. And, what's more, more than half of the songs were original tracks! The game took it one step up by finally including rock icons
Metallica
,
ZZ Top
, and
Santana
. With songs like
Foghat's
"Slow Ride,"
Cream's
"Sunshine of your Love,"
Heart's
"Barracuda,"
Rolling Stones
' "Paint It, Black," Black Sabbath's "Paranoid,"
Pearl Jam's
"Even Flow," Guns N' Roses' "Welcome to the Jungle,"
Stevie Ray Vaughan's
"Pride and Joy," and
Muse's
"Knights of Cydonia," one can only wonder what the game creators can do to top themselves. Here are some suggestions, however.
Start by including some
AC/DC
! Good grief, their guitar player is one of the best ever, where were you guys on that one? And while you're at it, get some
Led Zeppelin
on there too because
Jimmy Page
really is the greatest guitar player ever.
We need more of the other
Jimi
, (Hendrix, of course). He had one song in the original Guitar Hero, "Spanish Castle Magic," but that's it. Also missing from the psychedelic rock era is "Ina Godda Daveeda" by
Iron Butterfly
. "While My Guitar Gently Weeps," which is arguably the best guitar-oriented
Beatles
song, would be fun to play if Activision could get the rights to it. And
Eric Clapton's
"Layla" would be pure bliss.
Segueing into the 80s, the addition of bands such as
Def Leppard
,
Bon Jovi
and
Whitesnake
would be enjoyable for all the older gamers still stuck in the past glory of hair metal. For the 90s kids, songs from
Pantera
and
The Offspring
would be more than enough to reminisce about the good old days of alternative music (even though Pantera is obviously more metal than alternative).
Finally, make the last song of the game "Hotel California" by
The Eagles
, and you just might have the greatest Guitar Hero game ever. Oh, and you'll successfully manage to save another slew of parents loads of money since they won't have to buy their kids real guitars.
Story By Allisyn Keyser
Starpulse contributing writer