Camryn Chats About One Direction, 'LoveSick' And Her Dream Collaborations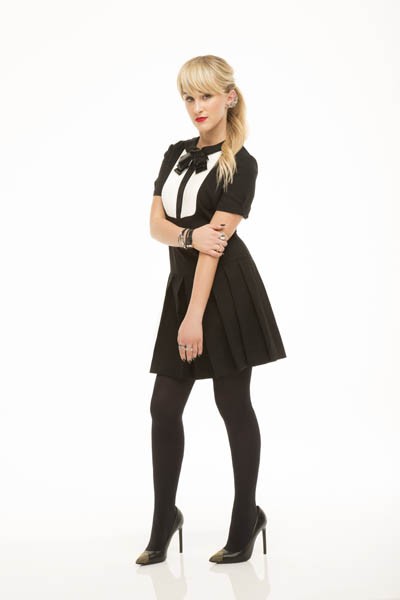 Camryn is no stranger to the limelight. The 14-year-old singer has toured with pop artists Cody Simpson and Greyson Chance, and just recently opened for One Direction on their European tour. Her latest single "LoveSick" became the #1 Most Added Debut Pop Record. The song's success also made her the youngest indie artist to chart at Top 40 since LeAnn Rimes back in 1997. I recently had the opportunity to speak with Camryn about her time on the sold-out One Direction tour, "LoveSick" and her dream collaborations.
You recently finished the One Direction European tour. What was it like working and touring with them?
Oh man, it was so much fun. All those guys are so nice and very welcoming. I felt like I was at home. It was amazing.
You opened for them on all 63 dates, is that right?
Yes!
Do you have a favorite memory or venue that you performed at on the tour?
I do, my favorite [venue] was in Stockholm, Sweden at the Friends Arena. It was the biggest arena that we played on the tour. I just remember going on stage and looking out; everyone's there and they're all looking at you and they're all jumping. It's really amazing when you have a full house and you tell everyone to jump and then you just see the entire floor jumping. It's insane!
Congratulations on all of your success for your single, "LoveSick." How do you even describe the success surrounding the song? I know it must be so exciting for you.
It's so exciting, especially to be at my age doing what I do now. It's already kind of crazy, but to then be the youngest indie artist to chart at Top 40 radio is just absolutely incredible and it's still very surreal for me. It's crazy, I never thought when I was eight years old that I'd be where I am today.
I see that you're writing and recording your debut album. How's that coming along?
It's coming along really nicely. We have a couple of amazing songs and I can't wait to share them with everybody. We're not sure about a release date or anything but it's kind of time to get it out there as soon as possible and get it done so that everyone can hear it.
I noticed that you recently performed a custom mash-up of Justin Timberlake, Jay-Z, Lorde and Bon Jovi. What inspired you to do that?
A lot of the time in interviews people ask me "Who inspires you?" and I can never come up with one specific artist. You know, it's always a bunch of different genres and a bunch of different artists. I listen to a little bit of everything and I think that that cover was a pretty good example of just a group of different people. I mean, you've got the classic Bon Jovi in there, then you've got Lorde's song and then Justin Timberlake and Jay-Z, so it was kind of all over the place and we found a way to kind of just make them all go together perfectly. It was amazing to see everybody's faces and then once the Bon Jovi song came on you'd see like a lot of the dads freaking out going "Yeah!" so that was really fun.
Yes, I love Bon Jovi. Plus, I'm from New Jersey, so of course I have to love them! So when I heard that song I just thought, wow, that's amazing.
Yeah and no one really expects that, you know. I mean, you have the Jay-Z and Justin [Timberlake] and then the Lorde and then all of a sudden you have this Bon Jovi song and you're like, what? (Laughs) It's great.
What kind of music have you been listening to lately? If we were to look at your MP3 player right now, what would you have on there?
Luckily I have it (laughs)! Right now I've been listening to this song called "Sweatpants" by Childish Gambino and I've been completely obsessed with it. I'm also obsessed with "The Man" by Aloe Blacc, "All of Me" by John Legend, "Happy" by Pharrell [Williams] and "The Illest" by Far East Movement, so it's just kind of like a mix of a bunch of different things.
Is there anybody in particular that you'd love to collaborate with in the future?
I would definitely love to collaborate with Childish Gambino on anything really! If not Childish Gambino, I would love to do something with Pharrell. I love everything he does.
You're only 14 years old and you've already accomplished so much. What do you feel has been your biggest achievement or accomplishment to date?
Performance wise, getting on tour with One Direction was the biggest thing that I've done in my career and that's amazing and I feel like I can only grow from here.  I definitely feel like one of the biggest successes, for me, was finding my real sound, finding myself as an artist and figuring out where I want to go from here. I mean, figuring out who you want to be and where you want to go at 14 [years-old] isn't something that you hear every day (laughs), so for me I definitely think that's one of the biggest successes. I'm really excited to see how everyone reacts to what I'm doing, and I think it's going to be good.
Check out the video for "LoveSick" below.