Camille Grammer Apologizes For Taking Shot At Ex-Husband Kelsey's Manhood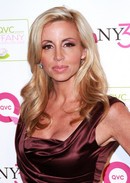 Kelsey Grammer's ex-wife has apologised to the actor for suggesting he fails to measure up in the bedroom.

Camille Grammer took a swipe at the former Frasier star when she joked her ex had "big hands, big feet", but was a "big disappointment" - suggesting he wasn't as well-endowed as she had hoped - while promoting her show The Real Housewives of Beverly Hills.

The catty remark upset Grammer's new wife, Kayte, who fired back, "Perhaps the fault lies not so much with the member in question but rather with the inspiration at hand."

Camille has now apologised, releasing a statement to TMZ.com. It reads, "Some joking remarks I made... got picked up and caused my ex-husband great embarrassment and, for that, I sincerely apologise. While the media added words and blew it out of proportion, I acknowledge my part in this and regret my remarks."