Cameron Diaz Steams Up The Pages Of The June Issue Of Harper's Bazaar UK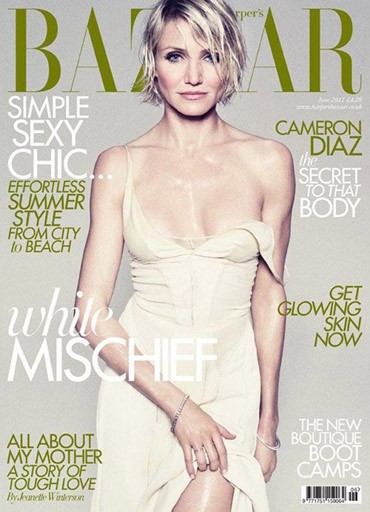 Cameron Diaz, 39, sizzles in the June issue of Harper's Bazaar UK, posing in several skimpy outfits and revealing "the secrets to that body".

The star of the upcoming film adaptation of popular pregnancy tome What to Expect When You're Expecting (May 18) opens up on her love of England, English men, and pal Gwyneth Paltrow.

"I love their sense of humor and the sense of chivalry and charm," she says of British men. "It's something that is innately a part of the culture – we don't have that over here, it's not the same in America."

Cameron, who calls Colin Firth "the perfect Englishman", says she loves to walk around London when she's in town.

"What I love about London is all the green spaces – you know how every little neighborhood will have a little park or a square.... I like to get walking in a city. I always find myself in very interesting places. I love London."

Cameron also became quite close with fellow star Gwyneth Paltrow after the passing of her father, who died under similar conditions as Gwyneth's father Bruce.

"We became very close after my dad's death. She reached out and it was very sweet. We bonded on that."

Both stars' fathers died at age 58 from cancer related causes.

Read more of Cameron's interview in the June issue of Harper's Bazaar UK, on newsstands May 3; and see more at HarpersBazaar.co.uk!