Cameron Diaz In Her Underwear Is The Best Thing About Lukewarm 'Sex Tape' Trailer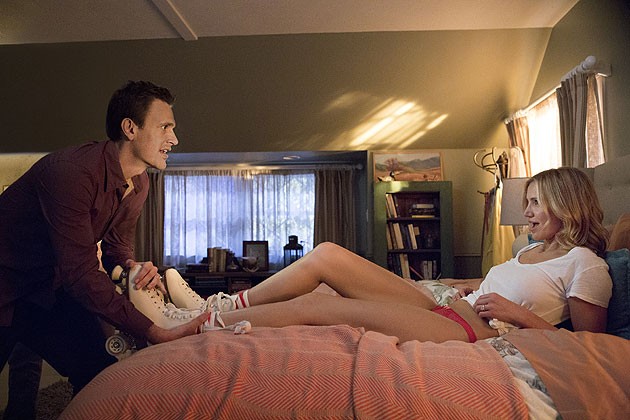 Cameron Diaz and Jason Segel play a married couple looking to spice things up with their love life by getting the camera out and taping themselves getting it on in Sex Tape.

But when Jay forgets to erase the tape and it automatically uploads the video to his cloud, the couple has to scramble to make sure no one they know sees it.

Diaz is clearly the hottest thing in this trailer, wearing a pair of rollerskate and a tiny white t-shirt with red panties, and looking more like 31 than 41. The trailer also gives a brief glimpse of the couple sitting nude on a couch together, but that's as far as it goes for a film about a, well, a sex tape.
But despite a film with lots of sex and little, if any, nudity, the actress told People magazine that there was a lot of strategically placed clothing and conscious unwardrobing.

"We call them modesty garments," Diaz told the magazine last month. "My dresser and I got really intimate. Double-stick tape can be the difference between the whole world seeing your goods!"

The actress added that the crew was also very well behaved.

"The whole movie is lovemaking between the characters," she said. "The crew was awesome and so respectful. It's not a vanity thing. It's about telling a story."

As far as working with "How I Met Your Mother's" Segel, she said, "We both had each other's backs. Our day was, 'My ass is going to be in your face and your package is going to be in my face!'"

"Sex Tape" also stars Rob Corddry, Rob Lowe, Ellie Kemper and Jack Black. The film opens in theaters on July 25.


Check out the red band trailer below (NSFW - contains adult language, sexual situations and Cameron Diaz in a see-through white t-shirt)