Cameron Diaz & Cheryl Cole Are Elegant In White At UK 'Expecting' Premiere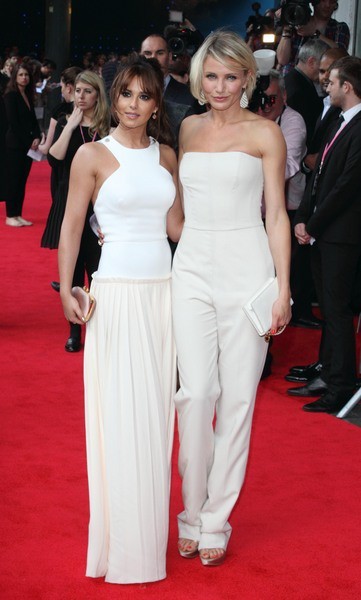 Cameron Diaz and British singer Cheryl Cole attended the "What to Expect When You're Expecting" UK Premiere yesterday. The duo dazzled in white. Cameron opted for an elegant sleeveless pantsuit, while Cheryl showed off her sexy shoulders in a simple dress.
Cameron recently brushed off rumors that she clashed with Jennifer Lopez on the set of the romantic comedy. She told Ellen DeGeneres, "It's always like that. They want women to be cat fighting. We live in such a misogynistic, chauvinistic (world), especially the media..."
Meanwhile, Cheryl recently made headlines for defending Chris Brown, who famously beat up then-girlfriend Rihanna in 2009. In a radio interview on Thursday, she said, "I think it's really kind of Rihanna actually (to forgive Brown). She's come out and publicly forgiven him really. I think it's about time we all did if I'm completely honest, if you want my opinion... I think it's time we all moved on. That guy is talented as hell."
See more photos of Cameron and Cheryl...