Cameron Crowe Presents the Elizabethtown Soundtrack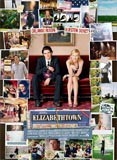 Perhaps more than any other contemporary storyteller,
Cameron Crowe
is known for the unique and powerful way he weaves music and narrative together in his films. This has never been more true than in Crowe's upcoming Paramount Pictures film '
Elizabethtown
,' opening nationwide October 14.
The songs audiences hear in the theater or on the '
Elizabethtown
' soundtrack - available on RCA Records - are but one side of the film's multi-layered musical story. While the soundtrack itself features newly recorded tunes by the likes of
Tom Petty
,
Lindsey Buckingham
,
My Morning Jacket
and previously released gems by
Elton John
,
Ryan Adams
,
Patty Griffin
,
The Hollies
and others, the film is infused - at times almost subconsciously - with the music of other artists who inspired Crowe during every phase of the creation of 'Elizabethtown':
Elvis Presley
,
Bill Monroe
,
Kathleen Edwards
etc....
Ultimately, the music of Elizabethtown is more than a soundtrack or a score. As Crowe puts it, "music can be felt around the edges and behind the emotional curtain of every scene. We played music before, after and even during many of the takes. Taken on a whole, this music is the spirit and the feel that affected and drenched us as we made the movie. Hopefully, the movie leaves you with that sometimes fleeting and unforgettable feeling that great music can give you - here's what it feels like to be truly alive."