Camera Used To Film 'Star Wars' Breaks Records At Auction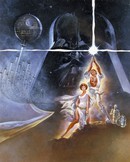 A camera used to film the original Star Wars has smashed all auction records for movie equipment after selling for $625,000.

The camera went under the hammer at the Profiles in History Debbie Reynolds Collection Part II auction over the weekend.

A spokesman tells WENN, "No movie camera previously sold has come anywhere close to this amount."

The Panavision PSR 35mm motion picture camera was used by George Lucas for principle photography on the film. The lot was a complete camera package with two 1000 ft. magazines, a Panaspeed motor, matte box, follow focus, a Moy geared head, Italian-made Elemack camera dolly and lens. The camera has been fully restored and is fully functional.

Coming up next for the Profiles in History auction house is the Icons of Hollywood auction on December 15 and 16 at The Paley Center for Media in Beverly Hills. Highlights include the ruby slippers and Cowardly Lion costume from The Wizard Of Oz, the DeLorean sportscar from Back to the Future III, Steve McQueen's Le Mans racing suit and Bela Lugosi's Dracula cape.