Cambridge Confidential: Duke William And Duchess Kate Fall Behind In Public Appearances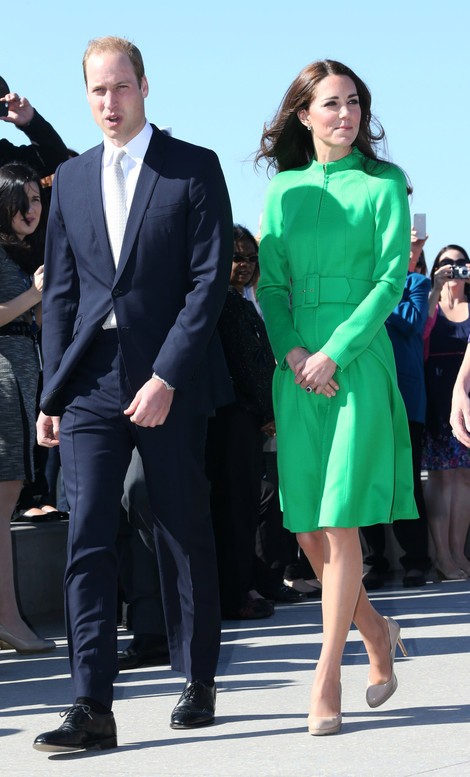 Duke William and Duchess Kate are incurring the disapproval of the public and royal court by their negligence in making public appearances. The rest of the royal family is currently working harder than ever, but the increasingly notoriously luxury loving ducal couple are in fact triggering a tremendous amount of resentment due to their (as is viewed) feckless behavior towards their official obligations. Despite a successful three-week tour of New Zealand and Australia, the ducal couple has in fact decided to yet again withdraw from the public eye of Britain and the British social scene; both have neglected their charitable obligations as well.
With charities struggling to find donors in the midst of this economic climate, the royals are working and determined to step up and help, yet the Duke and Duchess are behaving in a way more reminiscent of the late Duke and Duchess of Windsor. Their preference for traveling in style, large wardrobes, and a second expensive redecoration of Kensington Palace interiors, the public attitude has become decidedly hostile towards the usually adored ducal couple. The number of appearances they have thus far handled can be counted on one hand and courtiers are reportedly furious at their shirking of duties. At the time of Prince Philip's hospitalization (due to a severe bladder infection) it was made clear that the Duke of Edinburgh was ailing and needed rest, but the Duke and Duchess of Cambridge pleaded a determination not to upstage the Queen at the time of her Jubilee as an excuse to continue the low profile lifestyle that William is now apparently addicted to.
As Prince Philip and Queen Elizabeth step up more and Charles and Camilla have embarked on a tour of Canada, the Duke and Duchess have severely restricted the number of appearances to a level of below that of even the much-derided former Duchess of York. Prince Harry has been heavily occupied with his various projects and isn't able to dedicate his energy to the wider range of charitable fundraising that Prince William has been expected to perform as a direct heir to the monarchy. With the York Princesses expected to make their own independent living, much of the expectations are supposed to be met by William and Kate, yet both are refusing to live up to their roles.
During the first couple of years of married life, William and Kate were fulfilling a steady number of appearances, but still falling drastically short of expectations and were not taking much of the workload off of Queen Elizabeth and Prince Philip, who were in fact taking a substantial additional workload during the Diamond Jubilee festivities. The Duke and Duchess were going to official events where their presence was non-negotiable, but otherwise, the rest of the royal family soldiered on, meeting the expected number of appearances on behalf of the Sovereign, but William and Kate continued to shirk their fair share of the burden of meeting requests for appearances.
Now, with the successful Australian tour behind them, the Duke and Duchess are resuming their laid back lifestyle as ironically, the schedule of various members of the royal family are in fact increasing, with Princess Beatrice of York reportedly eager to lend a helping hand and take on a number of appearances herself. The Princess was under the belief and expectation that she would become a full working member of the royal family and become a participant in numerous appearances, but while in school the Princess was informed that she would not be a working member and was forced to adjust her post-school professional plans.
The result of the lack of work has caused a public backlash and inside the palace, courtiers are debating whether or not to suggest that the Queen require the ducal couple to make a certain amount of appearances and remove their right to decide their own schedule. At the beginning of their marriage the Duchess of Cambridge was permitted to decide her own work schedule and number of duties, but the Duchess has been viewed as taking full advantage of the flexibility granted to her and used a wide variety of excuses to avoid doing her duties as a working member (as she is supposed to be) of the royal family. Some courtiers even think she has been committing lese majesty in her deliberate refusal to assist the Queen in doing public duties.
Kate has been caught using the Queen as the reason for not working, suggesting via leaks that the Queen wishes for them to work as little as possible to enjoy family life. It's no secret that as a young bride, the Queen enjoyed life as a soldier's wife at a military base in Malta, but realistically, even the Queen did appearances on behalf of her ailing father and never sought to avoid an appearance when required or asked. Since then Kate has used the excuse of motherhood, but that has not gone well with the rest of the royal family who have often left their children in the care of nannies to fulfill obligations. It's been whispered in staff halls that Kate is putting more effort into her beauty regimen, while William decides to go on hunting trips or trips to the tropics with Kate.