Cambridge Confidential: Duke And Duchess Of Cambridge Show Themselves As Less Groundbreaking & More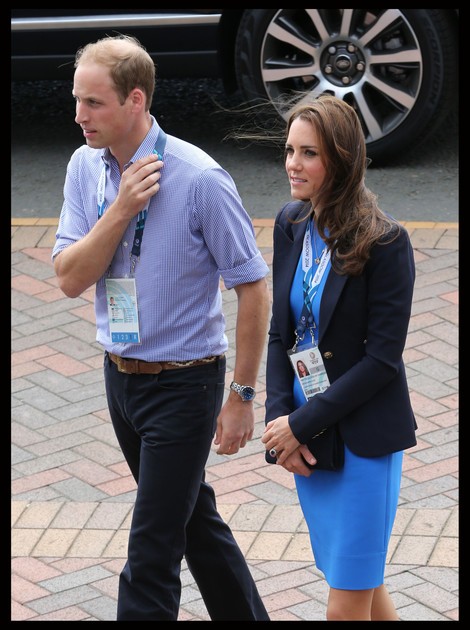 William and Kate are living a low-key, 'normal' life, but the more he and the Duchess refuse to cooperate with courtiers who are invested in the success of the monarchy, it is certain that soon even the courtiers will be resigning their positions en masse and leave the royal family exposed and unguarded. The courtiers are the backbone of the monarchy, determined to protect the royals, but as of late their patience has been strained to the limit and they are currently coming to a consensus that William might not be salvageable.
The idea of a normal life for the ducal couple was initially encouraged, but it has gone from the idea of a year or so off while William complete military work to a vicious cycle of repeated promises (quickly broken) to engage in full time work and appearances, to William frequently finding one reason or another to put off participation in formal royal ceremonial and frequent announcements of newly created 'transitional years.' It's been galling to a public that quickly embraced Kate as they did William at the time of his birth and reviving memories of the couple's jet setting idle twenties. William has been (in the eyes of courtiers) systematically squandering his opportunities to learn anything of use and to end up helping the Queen shoulder her responsibilities. He's living quietly, like a country gentleman of the gentry or aristocracy, when he isn't going on lavish vacations. William keeps trying to live as conventionally as a country gentleman, but he is seen as unaware that he's devolved into a vicious cycle of repetitive expectations, indicating that he has become broken minded in his obsession to live quietly.
Instead of helping William make connections, holding parties inviting many important people, the Duchess has in fact been withdrawing herself. She has not been making it a point to participate in receptions, or make even the most basic appearances at private state events or sit in on meetings with her charities. Her involvement with her charities has fallen by the wayside and it has infuriated members of staff that have worked hard to ensure that the Duchess would be able to attain patronages. In spite of media hype and fawning articles, it was not easy finding the Duchess charities that would like to have her as patron. Kate has been stigmatized by her work-shy reputation and courtiers worked hard at giving her charities where she could counter her reputation that built up over the years during the time when she was William's official girlfriend. To the shock of the courtiers and the charities that trusted her, she ended up disappointing all of them with her indifference to working with them and at this point in time, has not lifted a finger to work hard at promoting them and fundraising. Kate has been also living what is her version of a normal life, spending time in London whenever she can, much of her time is spent shopping, and beauty treatments, only this time with Prince Charles (and by proxy the public) paying her expenses for her preference for private beauty sessions.
There is especial resentment directed at the errant Duchess mainly since she's known to have practically campaigned (rumored in the cahoots with the British press to achieve her goal) and was known to have reportedly been fixated on the (formerly) Most Eligible Bachelor in the World (as William was christened even in early adolescence) at an early age, supposedly going so far as to repeatedly place herself in a strategic position to make sure she met him. Her former idleness would be chalked up easily as youthful enjoyment of life, but her outright refusal to even try to raise the profile and raise funds of her assigned charities has brought back her past, a past that courtiers have worked hard to bury. Kate's promise to the public to do her best to work and make the most of her position to do good has backfired.
Despite a formerly complaisance to William's schedule as a long term girlfriend, she was oddly balking at becoming a full time royal and making regular appearances at William's side. This began to cause irritation in palace offices and triggered memories of Fergie's (Sarah Ferguson, former Duchess of York) work-shy history, but it wasn't just the light workload, but Kate's demanding behavior and constant refusal to help William overcome his phobia of interacting with the public. As a consort and commoner without allies already in the royal court to help her out, she has (in the eyes of courtiers) actually exacerbated his phobia and created a whole new level of paranoia in the troubled prince. He was at one point becoming a regular feature on the pages of the newspaper for his appearances, but at this point in time, the prince has ended up becoming oddly beleaguered by personal demons that the palace is helpless to deal with because they don't know what is going on in his head. on her and she's lost all the hard gained ground (due to work by the courtiers) that she had in 2011.
Kate's behavior has regressed to pre-marriage idleness and William has drifted into doing nothing but enjoy the occasional trip to Spain to hunt and discreet trips to various private clubs. It's galling to the courtiers who work constantly to spin their idle life; what is particularly infuriating is how Kate spent so many years pushing her way in, promising to work hard and learn quickly, has in fact been a blatant lie, bordering on a slap in the face to the patience of the public and the respect she has been given by the media. Her former supportive columnists are becoming more and more strident in their criticism (Amanda Platell has been borderline mocking in her denunciations of Kate's recent 'wardrobe malfunctions') and the press has gone from fawning, to diffident, to indifferent and now the coverage is moving to hostile and mocking. refusal to make his wife work hard has been causing disdain by even his closest friends.By proxy, this leaves William vulnerable; Kate has not been helping the paranoid William deal with his demons and , she has in fact in the view of many isolated him from his family, friends who are concerned.