Callie Thorne Is The Perfect Choice For Lifetime's 'Thinspiration'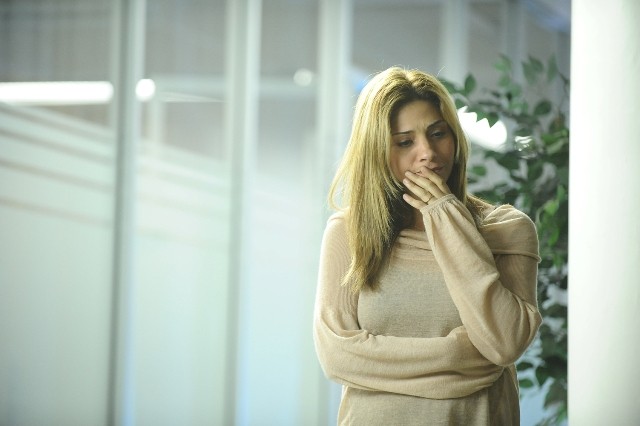 Callie Thorne recently wrapped her three-season run starring as Dr. Dani Santino in USA's Necessary Roughness, but you can catch her in an amazing new role this weekend with Lifetime's Thinspiration. She plays Joey, whose whole family is sorely tested when daughter Hannah (Laura Slade Wiggins) battles anorexia. Along with her husband Michael (Marcus Giamatti) and son Leo (Brendan Meyer), Joey fights for Hannah's life.
BFTV had the pleasure of speaking with Callie recently to discuss the film, and going from a cult hit TV show to a hard-hitting movie.
"Even though the third season of Necessary Roughness was only ten episodes, they were an extremely intense bunch of episodes, especially toward the finale. I was looking forward to having a little bit of downtime and being able to sort of process the season," she told us.
"But then this offer came in, and because I've been lucky enough to essentially be doing TV for ten years basically and I didn't have an opportunity to do much between seasons, when the offer came in and I read the script, at that point it was an independent and I was so excited by the idea of getting back to the indie roots that I had sort of started my career with."
"It was sort of the perfect storm, because it did hit home for me on so many levels," she continued, "and mainly because it reminded me - when I was young, there were anorexic clubs. There was still that kind of stuff going on. And they always terrified me. I very luckily had a mother that brought my sister and I up with a very healthy body image and ideas about food and such. So this script really struck a lot of chords in me because of that."
Given Thinspiration's very difficult subject matter and the fact that this is a film that tackles the issue particularly hard, we asked Callie if it was also a tough project to make. "It was and it wasn't," she said, "in that the producers and the crew and the actors, everybody was on the same page, which does not always happen. It was a very tight knit group of people that came together. We shot it in a very short period of time and we didn't all have big trailers; it was kind of tight conditions. But because of that everybody bonded really quickly, because everybody was excited to tell this story."
"And then on the other hand, when there were scenes like...There's a scene where I open up the closet. [Joey] sort of has this little pea-sized fearful idea that something wrong is going on, but she hasn't really picked up on the flags, because she doesn't want to believe it. I've gone into [Hannah's] room and everything's starting to register much more.
"That leads me to open up that closet and you see these mountains of rotting food that she's been hiding. We were just blocking it and I started to cry. That was a very difficult day and I know it was very difficult for Laura as well, but often the hard times are the best ones."