Callie Cameron Brings The Sexy On HBO's 'Funny Or Die Presents'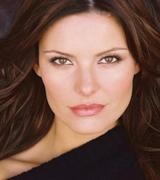 Will Farrell and his co-executive producers Adam McKay and Chris Henchy have brought the Internet comedy phenomena FunnyorDie.com to television with the new HBO series 'Funny or Die Presents'. Actress Callie Cameron plays a retro and well, slutty secretary who stars in the opening and closing scene of every episode. We are fans of the website so we were excited to get the chance to chat with Callie about her experience on the show.
You might recognize Cameron from the Old Spice commercials of Super Bowl 2005 fame. She also did a spread in Maxim magazine and was voted one of the hottest women in the world by Esquire magazine. Callie is hot. There is no arguing that. However, this hottie is funny too (we're doing our best not to completely hate her) so it makes sense to us that she would be taking on more intricate roles like the secretary in 'Funny or Die Presents'.

It seems like you transitioned from modeling into acting pretty easily. Was the Old Spice commercial your big break?
That was definitely when I started to get noticed. Howeeeeeeveeer… I wish they would have done another one. Then that really would have been my big break!
Well, you landed a recurring role in an HBO series produced/ written by SNL alumnae so we'd say it did the trick. Who do you play on the show?
I play a retro, slutty secretary who is quite predictably sleeping with her very serious boss. We introduce and review each episode.
The website is a pretty eclectic presentation of humor, kind of the 'You Tube' for all things funny. How does that translate into the show? What is the show's format?
It features sketch comedy from animation to music videos. Everyone guest stars from Ron Howard to Jim Carey to Chevy Chase, all the best funny men in the business. It's quite entertaining.
Have you always wanted to be a comedic actress? Is that what you see yourself doing in the future?
I have been taking acting classes where we study sitcom timing and other styles of comedy. So, yeah it is kind of my forte. But you know I'm an actress, I can do anything." She attempts to say coyly before breaking into a laugh.
Well, of course! So, how much of what we, as the audience, see is improvised and how much is scripted?
Yes. Yes there is a lot of improve. It's great! They gave me a few lines, but I got to be creative with my role.
How did you get into character?
I had to wear the big 60's pointy Madonna bra… I put in these chicken cutlets. You know I put on the hair and the makeup and the whole uniform and I become alive.
It sounds like a lot of fun.
It is! And it (the show) seems to be doing quite well so we'll see if it gets picked up for another season. We're excited.
We'll spread the word!
I'm working with great people. I'm learning. So stay tuned!
You can check out 'Funny or Die Presents' and Callie on HBO.com. We highly recommend it.