California Girl Katy Perry Relaxes By The Pool In A Skimpy Bikini While In Miami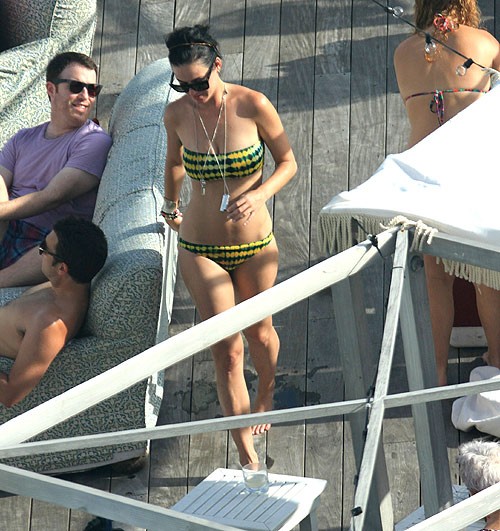 Katy Perry took some time off from her busy schedule promoting her new movie, Katy Perry: Part of Me, to relax in Miami Friday, lounging by the rooftop pool at her hotel in a skimpy green and yellow tie-dyed bikini that showed off plenty of cleavage in front -- and in back, thanks to a pair of low-cut bottoms.

The sexy singer enjoyed her downtime with some friends and even brought her 91-year-old grandmother, who she's been known to take with her to red-carpet events.

Katy recently finalized her divorce from comedian Russell Brand; and now rumors of a new romance are starting, thanks to a story at UsWeekly.com.

Rumor has it Katy was at the Soho House in West Hollywood last month with celebrity lothario John Mayer -- who she reportedly has a big crush on -- and the two spent time together for a few days, with Mayer even going over to her place for pizza one night.

"They were affectionate, holding hands and cuddling," a source told Us Weekly.

But what about her relationship with Florence + the Machine guitarist Robert Ackroyd?

U.K. magazine Heat published an interview with Ackroyd, who confirmed that the couple have been hanging out together a lot, but it's not that serious.

"She's the real deal. She loves London, so I'm just showing her the sights," he said.

Katy wore a black bikini on Wednesday while hanging by the pool. See pics here.


More pics of Katy in her green & yellow bikini start here...