Buy Your Own Brunch! Celeb's Moms Who Won't Be Getting The Royal Treatment This Mother's Day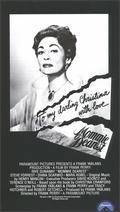 Ah, Mother. It's a noun that traditionally conjures up the warm 'n' fuzzies, instigates fights ("Don't you talk about my mama!), drives the most hardened man to tears and inspires tattoos proclaiming everlasting love.
For the lucky majority, Mother's Day is an opportunity to express what we usually fail to: How much the unconditional love, support and guidance of a maternal figure has touched our lives for the better. But what of the unlucky few for whom the idea of Mother's Day is sheer anathema? Which stars won't be buying a card, let alone brunch for Mommie Dearest come May 11?

Drew Barrymore
: The secret has long been out: The sweet-faced cherub who first discovered
ET
in her bedroom closet had a few skeletons in her own. By 13 she was a full-fledged drug addict. Where, pray tell, was her mother? Jaid Barrymore was too busy trying to steal the spotlight to pick up on her daughter's SOS; she frequently squired Drew to nightclubs then disappeared in search of flashbulbs, leaving her pre-pubescent kid to top her bowls of ice cream with Bailey's Irish Cream. Long after Drew cleaned up and wised up about dear 'ol' Mom, Jade did what she could to gain notoriety, including posing for Playboy (after Drew did it) and putting Drew's childhood mementos up for sale online. Doubtful these two will share Mother's Day; Jaid admits her relationship with her famous offspring is "a bit estranged." Will they be estranged Ever After? That remains to be seen...

Jennifer Aniston
: - She and her mother definitely aren't
Friends
, unless your definition of friendship includes spilling details about your famous relation to a tabloid television program then authoring a book under the guise of trying to reconnect. Worse, the book, "From Mother and Daughter to Friends: A Memoir," featured unflattering pics of Jen. Not very sensitive in light of the fact that Jenifer has admitted she always felt her looks paled in comparison to those of her striking mother. Outlook for reconciliation: about the same statistical chance of Jen reuniting with
Brad Pitt
. Ouch.

Brooke Shields
: The woman who bore this Pretty Baby won't get a lush bouquet this Mother's Day! Mom Teri gives new meaning to the phrase the "tie that binds." As legend has it, she bound an infant Brooke to her chest each night to sleep. Creepy, much? Teri managed to up the creep factor even more by becoming Momager to the budding teenage actress and encouraging her to do oversexualized projects like posing in risqué Calvin Klein ads and cavorting in her skivvies in
The Blue Lagoon
. Despite inviting her mother to her 1995 wedding to
Andre Agassi
, the tension remains as thick as Brooke's iconic eyebrows.

Britney Spears
: Her Mommy woes had her crooning a melancholy tune in June of 2007 when the pair had a public falling out over Britney's increasingly erratic behavior and a mysterious letter she delivered to mom Lynne. There was speculation that Brit's letter demanded Lynne stay away from her two grandsons if she was taking any medications that might "cause her to be impaired." Ignoring the obvious irony, Spears told reporters at the time, "I'm praying for her right now. [I hope] she gets all the help she needs." Um... Pot.Kettle.Black. Mama and daughter Spears have been spotted spending time together of late; of course, this renewed intimacy could be influenced by the fact that the Spears elders have wrested control of personal finances away from their now-dependent daughter. Brit would have to ask for the dough to buy a bauble for Lynne - not that she'd want to. What are the chances that in 10 years time, Britney's own boys Sean Preston and Jayden James won't be inspired to spoil their own inconsistent mommy on Mother's Day?

Gary Coleman
: Do you think when Coleman punched out a female autograph-seeker a decade ago (Whatchu' thinking bout, Gary?) it was precipitated by latent anger at his mother, who stole his fortune? In fairness, Gary's parents sieving almost $17 million of his
Diff'rent Strokes
money was only one of many challenges he's faced in his life. Adopted as an infant, Gary was diagnosed with the congenital kidney defect Nephritis (which stunted his growth), has had two kidney transplants and remains on dialysis. Gary has also struggled with finding acting work in his adult years and legal troubles (the aforementioned assault in 1998). Gary's got a lot of issues to work out: Who knows where reuniting with his parents ranks on that list.

Meg Ryan
: You'd think perpetually perky Meg Ryan (
Sleepless in Seattle
) and her mother Susan Jordan could at least find common ground in their mutual love for acting... Except that when Susan was bitten by the bug, she abandoned 15 year-old Meg to chase her dreams. The relationship was rocky to say the least, until 1990 when it was non-existent. Susan exacerbated the problem by trying her case in the court of public opinion, beseeching her famous daughter in a 1994 issue of Redbook magazine, "Couldn't we just... be friends?" At last check, Susan's still waiting for a reply.

Aaron Carter
: "I feel betrayed by my own mother," 16-year-old wannabe-rapper Aaron Carter said in 2003 after discovering his momager Jane Carter had taken money out of his account and failed to pay bills on his behalf. Even while juggling both
Lindsay Lohan
and
Hilary Duff
, bad-boy Carter found time to file legal emancipation from his mother. Though Aaron later withdrew the filing and his mom claimed they were making "baby steps" towards a truce, chances are their relationship is almost as frosty as that of big brother
Back-street Boy
Nick
and his ex
Paris Hilton
.

Jena Malone
: No need for 23-year old rising actress Jena Malone (
Stepmom
,
Into the Wild
) to buy her mom a Mother's Day gift: Alleged shopaholic Deborah Malone has bought $1.2 million worth of gifts for herself - with Jena's own money. Jena took the law into her own empty hands and was rewarded by the court system with emancipation at the age of 15. Jena walked away from Deborah with her freedom - if not her cash.

Kim Basinger
: You think Basinger's battles with ex-hubby
Alec Baldwin
are nasty? This bombshell's mother Ann famously said her daughter would be "working at Woolworth's" had it not been for her. Well, Woolworth's is out-of-business - as is her relationship with Kim (
L.A. Confidential
). Sadly, Ann has never even seen granddaughter Ireland. Ann's response? "I've got 12 other grandchildren." Er, that's the spirit?

Eminem
: You might be surprised to hear that the most optimistic chance of reconciliation comes courtesy of Marshall Mathers II (aka Eminem), who has been quoted as saying about mom Debbie Mathers, "I'd probably go back to the day I was born and kill my mother as soon as she had me." Shudder... So why the hopeful prognosis for a relationship so diseased that Debbie filed a multi-million dollar defamation suit, dropped a retaliatory rap CD and released a book - "My Son Marshall, My Son Eminem" - alleging her son is a manic depressive and sham artist? Because in the wake of their epic battle, when Debbie contracted breast cancer, Marshall stepped up to foot the $200,000 medical bill.
This Mother's Day, give your mom the greatest gift of all: Fill a lovely card with promises never to sue her, write a scathing tell-all or threaten her life... Provided she keeps her mitts off your money!
Happy Mother's Day 2008!
Can you think of any contentious living celebrity/mom relationships we missed? Let us know in comments!
Story by
Shannon Peace
Starpulse Contributing Writer