'Burn After Reading' Out On DVD & Blu-ray Dec. 23

Intelligence is relative in this hilarious new spy comedy from
Joel
and
Ethan Coen
, the Academy Award® -winning directors of
No Country for Old Men
and
The Big Lebowski
. Academy Award® winners
George Clooney
and
Frances McDormand
,
Brad Pitt
,
John Malkovich
, and Academy Award® winner
Tilda Swinton
star in this brilliantly clever and endlessly entertaining comedy of errors.
Burn After Reading
is available on DVD December 23rd!
When a disc filled with some of the CIA's most irrelevant secrets gets in the hands of two determined, but dim-witted, gym employees, the duo are intent on exploiting their find. But since blackmail is a trade better left for the experts, events soon spiral out of everyone's and anyone's control, resulting in a non-stop series of hilarious encounters!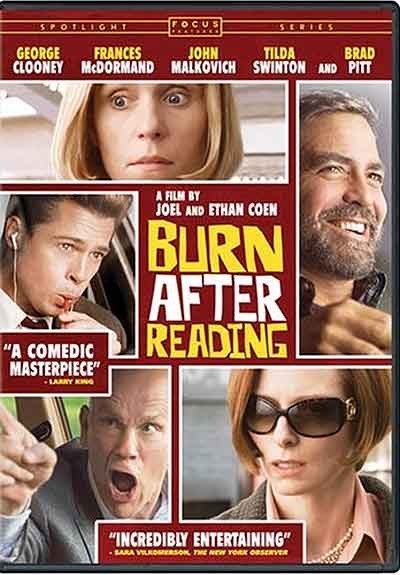 Bonus Features:
-Finding The Burn: The making of
Burn After Reading
from inspiration to the big screen.
-DC Insiders Run Amuck: We show the strength in putting together some of the most amazing talent in the world to create a world of Washington, DC insiders all trying to get ahead or find true love.
-Welcome Back George: This is a companion, comedy piece, focusing on Mr. Clooney as he returns for his third collaboration with Ethan and Joel Coen.
Bonus Features Exclusive To Blu-Ray Hi-Def:
-Get Connected with BD-Live!
-Access the BD-Live Center through your Internet-connected player and download even more bonus content, the newest trailers and more!
-Plus, explore
My Scenes
and collect your favorite clips from the movie then share with your BD-Live buddies!
-
Burn After Reading Official Site
*--UPDATE--* The release date for the "Burn After Reading" DVD & Blu-ray has been changed to Sunday, December 21.