Bullets Booze and Ballroom Invade 'The Real Housewives Of New Jersey'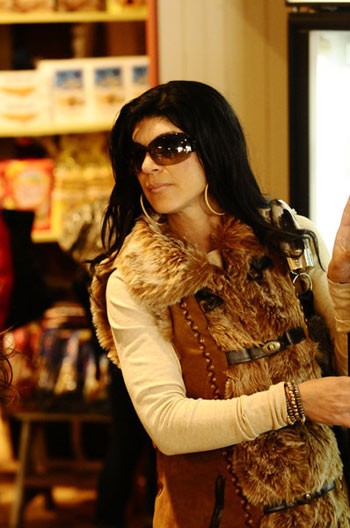 The Jersey housewives continue trying to heal old wounds and not creating new ones; the episode is laden with bullets, booze, and ballroom.  The episode begins where the last one left off with the confrontation between Melissa and Teresa and the argument over who started it first and how they are going to finish it. Teresa takes Jabs at Melissa over money issues and Melissa tells Teresa not to go there, she should be the last person to talk about money. After running out of things to rehash and argue about Melissa and Teresa agree on one thing it's about family. They agree to try to make things better and get theirs back together so the cousins can see each other and Joe can finally get back into his parent's good graces. They make amends ending it with a "hug" making you wonder how long this will last.
Meanwhile, while Jacqueline is caught up with all the Teresa drama, Caroline is busy on the radio, getting worn out and ready for a weekend away. She talks to Albert about her debut to find his out his thoughts. He says she had a rocky start but ended strongly, and then they discuss, the Guidice's invitation for a weekend in the Catskills. Albert opts out of a weekend in the country to work. Good Choice, while Caroline plans to head up there with Albie and Chris, where any episode with Albie is always good.  
The Laurita's also plan for a weekend with Teresa and her family but packing proves to be a challenge. There seems to be more liquor and guns being packed then clothes. Two ingredients that both Jacqueline and Chris find make the perfect adults-only weekend.  While Jacqueline and her friends are planning a weekend away from the kids, Melissa is planning a weekend revolving around them.  Antonia's ballroom dance recital coming up Melissa invites her Sister over to chat about her conversation with Teresa and her desire to get closer to her in-laws, and her children to their grandparents. She says she wants Joe's Parents to come to the recital but not sure if they will because they are always with Teresa.  While Melissa might be creating a recipe for disaster, Kathy is cooking up new ideas.
Kathy discusses with Rich her idea of opening a catering company after the many compliments she received at Thanksgiving and the fact that she loves to cook. However, Rich has other ideas, he wants Kathy to think big and convinces her to open up a restaurant or at least look at spaces.
The Guidices and the Laurita's arrive in the Catskills and the booze and lewd-behavior start flowing and everybody starts getting out of control. The gang gets drunk and TMI is the name of the game as everyone learns a little too much about each other including that Joe Guidice private parts and that he can do the splits. The gang has a pizza-making contest that turns into a game of sexual innuendo Teresa makes a classic Italian pie, while a drunken Jacqueline forgets they are having a pizza contest and makes a Nutella calzone.  Finally at 2 am they call get to bed.
The next day Caroline arrives with Albie and Chris in tow. The mama en that she is she tells them they can't shoot guns or ride quads or do anything dangerous basically have no fun. They are over 18 Caroline even Teresa agrees with the boys. However the boys get their way and ride the quads and get a few shots in what they are shooting at is a mystery until Joe Guidice takes out a watermelon.
Back in New Jersey, Kathy and Rich look at possible spaces for Kathy's " restaurant" but nothing seems classy enough for her refined taste. Then the couple head to Antonia's dance recital to support Melissa and Joe. Grandma Gorga shows up and Joey couldn't be happier there are only two things Joe does more than cry, drinking and pawing his wife.  Antonia completes her awkward and unusual dance and the family rejoices in her victory.
Finally, after a sinful weekend, the gang heads to a church on the Guidice's property for prayer and reflection. Making one wonder what we are in store for next week.