Buju Banton Appeals Drug Conviction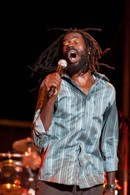 Reggae star Buju Banton is appealing his federal drug conviction, insisting there was not enough evidence to prove he was involved in a cocaine conspiracy.

The Grammy Award winner's attorney filed appeal papers on Friday claiming his client was the subject of entrapment by a federal informant who hounded the singer.

Banton, real name Mark Myrie, is currently serving a 10-year prison sentence following his conviction in February.

The Jamaican hitmaker was taken into custody two years ago after he was busted with two other men for planning a cocaine distribution deal. Banton appealed for a shorter jail term earlier this year and the judge in the case received letters from several of Banton's 15 children, Jamaican officials and celebrities including actor Danny Glover, asking him for leniency.

U.S. District Judge James S. Moody agreed to drop a gun possession charge against Banton.