'Buffalo' Hat Worn By Pharrell Williams At The Grammys Steeped In History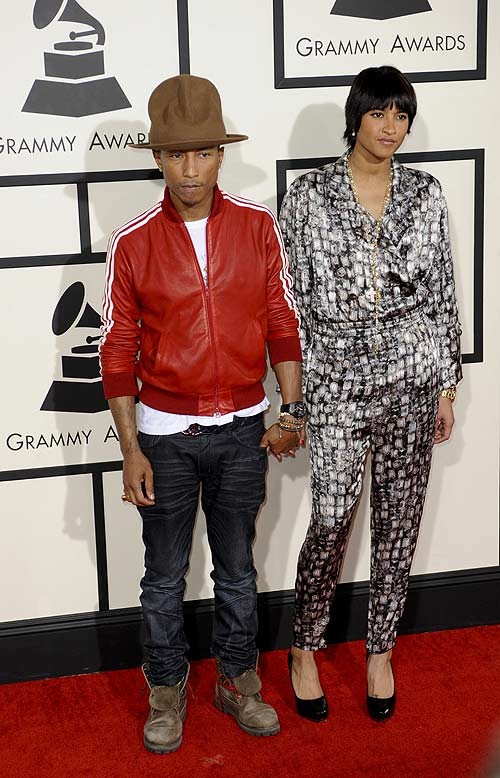 Pharrell Williams arrived at Sunday night's Grammy Awards wearing a big brown hat that had everybody talking.

The producer and his hat took center stage several times during the awards ceremony to accept awards with "Get Lucky" collaborators Daft Punk, causing numerous comparisons to the likes of Smokey the Bear, Canadian Mounties and the logo of fast food joint Arby's.

But the hat does have a history and is nothing new, in fact, it was created over 30 years ago.

Designer Vivienne Westwood created the hat as part of her 1982 "Buffalo" collection, after which the chapeau made an appearance in the music video "Buffalo Gals" from designer (and Westwood's boyfriend) Malcolm McLaren, who enlisted help from a pair of radion deejays known as The World's Famous Supreme Team. The single was featured on McLaren's 1983 album "Duck Rock."

The song McLaren's early rap single is based on is further steeped in history though, having been written in 1844 and published as "Lubly Fan."

McLaren's version of the song includes the lines, "Two Buffalo Gals go 'round the outside, 'round the outside, 'round the outside," which was changed to "Two trailer park girls go 'round the outside, 'round the outside, 'round the outside" on Eminem's 2002 single "Without Me."

"It's Vivienne Westwood," Pharrell said during the 56 Grammy Wrap Up Show. "It's a Buffalo hat. This gentleman by the name of Malcolm McLaren... huge history. And I just liked it."

Before the show even ended the hat had its own Twitter page, and Arby's even tweeted Williams about it.


Thanks @Pharrell for a memorable #GRAMMYs night. Only you can prevent wildfires. http://t.co/o0OQ2rH4FQ @smokey_hat pic.twitter.com/HWTqbnuEU6

— Smokey Bear (@smokey_bear) January 27, 2014
There's more than enough room in my hat for everyone to join #TeamSmokey @Pharrell #OnlyYou #GRAMMYs pic.twitter.com/D72sVjvaQu

— Smokey Bear (@smokey_bear) January 27, 2014
Hey @Pharrell, can we have our hat back? #GRAMMYs

— Arby's (@Arbys) January 27, 2014
Y'all tryna start a roast beef? ?? "@Arbys: Hey @Pharrell, can we have our hat back? #GRAMMYs"

— Pharrell Williams (@Pharrell) January 27, 2014