Bryan Cranston Plays Lyndon B. Johnson In Newest Broadway Biopic 'All The Way'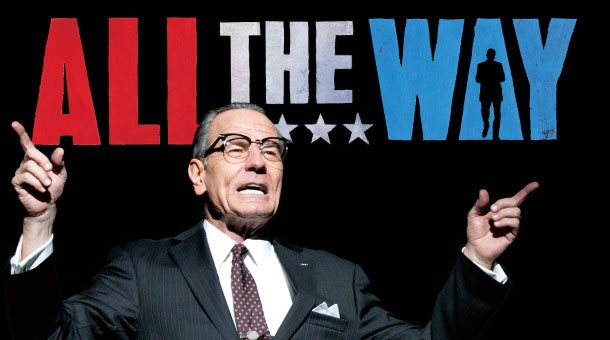 Bryan Cranston, first known for his part in 'Malcolm In The Middle', and his (in)famous portrayal as the Chemistry teacher-turned-drug lord, Walter White in AMC's blockbuster series 'Breaking Bad' has a new role, not on the big or even the small screen, but rather on broadway.
Cranston will be playing the part of the the 36th President of the United States, Lyndon B. Johnson, in the broadway biopic, 'All The Way,' which takes it's name from the popular running slogan "All the way with LBJ."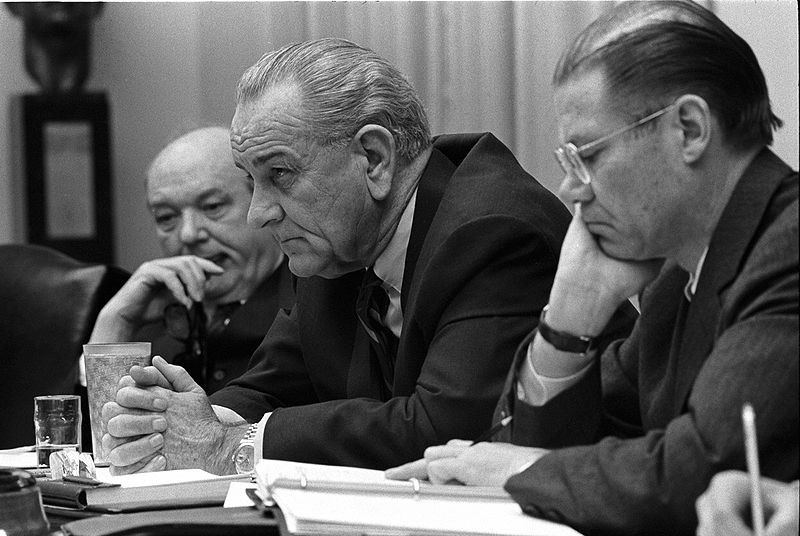 Not a terribly happy looking guy, that LBJ.
For those who find politics a bit of a bore, here's a little background information for you. Lyndon B. Johnson, or 'LBJ' as he was referred to back in the day, was a Texan Democrat, who served as Commander-in-Chief of the United States from 1963-69. His presidency is remembered fondly by some for his attempts at broadening of civil rights and starting what would become remembered as the 'War on Poverty.' LBJ's presidency would be remembered less-than-fondly by others, as he plunged the United States even deeper into the quagmire that was the Vietnam War.
Bryan has been working on 'All The Way' Since September 2013, which opened in March, and the play has brought in critical commercial success and has been heralded as a 'dense but mostly absorbing drama' by New York Times critic Charles Isherwood. Recently PBS's Jeffrey Brown sat down with Cranston for a lengthy interview about the part he plays. There are several excerpts from that interview below.
---
JEFFREY BROWN: The play, called "All the Way," opened on Broadway in March. Written by Pulitzer-Prize-winning playwright Robert Schenkkan, it's a look back at the year 1964: President Johnson's first year in office after the assassination of John F. Kennedy. A tumultuous time for the presidency and the entire nation.
BRYAN CRANSTON AS LBJ: We got people in this country living in unbelievable poverty. I know, I grew up like that in the Hill Country.
JEFFREY BROWN: I saw you last night, and I saw this character, you know, neck out, shoulders up.
BRYAN CRANSTON: That was my version of LBJ. I mean, it really is a version of him. Because you don't wanna try to take on the character specifically in the sense that – to do an impersonation. I just want to get the sense of who he is. And allow that character to just be absorbed into me, you know. And so I'm able to then let him loose onstage.
JEFFREY BROWN: Much of the play focuses on the passage of the Civil Rights Act of 1964 — part of Johnson's legacy of legislative achievement that's being remembered and celebrated now, 50 years later…and before he was worn down and, for many, tarnished by the Vietnam War. Do you feel yourself part of that looking back at the legacy and therefore some responsibility to– to telling that history?
BRYAN CRANSTON: Well, there's a certain amount of ownership that happens when you– when you take on a character. You absorb as much source material as you possibly can. It's like you're making a bouquet. You're taking bits and pieces from each material that resonate with you. And you're crafting your own LBJ or whomever that character would be.
JEFFREY BROWN: That resonates with you in some way.
BRYAN CRANSTON: Yeah.
JEFFREY BROWN: What does that mean?
BRYAN CRANSTON: Well, knowing that I physically have to be up on that stage and presenting this text, as it were– you– you take bits and pieces of– of information that makes sense to you. That– that make you realize, "Oh, there's interesting things."
For instance, in– I don't even know where I read it. But– he had a standing appointment to get a massage every night at the White House. He called it a rubdown. He'd get himself a rubdown. And that informed a couple of things. I said, "I– he must have been tightly wound." And so—I– I gave him– a back issue– in the play. 
---
The full interview, complete with video can be found on PBS' website HERE. We encourage you to go check it out because Cranston's portrayal of LBJ is absolutely spectacular. We believe that it's a hit that historians and broadway fans alike, won't want to miss.