Bryan Cranston Credits Happy Family Life To Pre-Marriage Counseling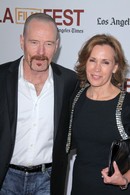 Actor Bryan Cranston and his wife went to marriage counseling sessions before they wed.

The Breaking Bad star is currently celebrating his 22nd wedding anniversary with actress Robin Dearden, and Cranston insists their pre-marriage chats with a therapist have been the secret to their successful partnership.

He explains, "I do believe in marriage counseling. In fact, my wife and I started going to a marriage counselor when we were still dating.

"Men and women think so differently, and, instead of assuming what you're partner is saying, or letting it fester or something, you just let it out. I think, in all the times we've gone, we've become closer right after... We've had a great experience."