Bruno Mars, Red Hot Chili Peppers Deliver An Entertaining Halftime Show At Super Bowl XLVIII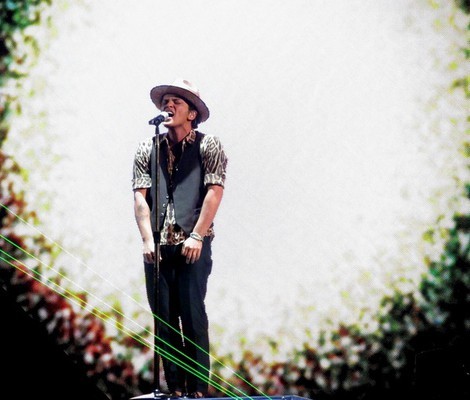 Bruno Mars and the Red Hot Chili Peppers rocked the Super Bowl half-time show on Sunday night. The singer and iconic band performed at the MetLife Stadium in New Jersey.
Mars, who at 28 was the youngest solo artist ever to perform during the half-time show, began his 12-minute set with a heart-pounding drum solo. He played on a custom-designed kit, which played tribute to his late mother, Bernadette Hernandez, who died in 2013. The bass drum was painted with a red heart and the name Bernadette running through it and was modeled after one of Mars' tattoos.
The singer traveled on a moving platform from the center of the field through fans and onto the main stage, where he and his eight-piece band, The Hooligans, belted out the hit song "Locked Out of Heaven." They also performed "Treasure" and "Runaway Baby" before the Chili Peppers burst onto the scene.
Shirtless frontman Anthony Kiedis and bassist Flea braved cold temperatures as they performed their hit track "Give It Away." Mars enthusiastically jumped in to join them for the 1991 song.
After the group left the stage, Mars toned down the set with a final tune, a touching version "Just The Way You Are." In the background a video montage of men and women from the military sent personalized messages to their friends and families at home.
The half-time show ended with a  huge firework display.
Queen Latifah kicked off the Super Bowl with "America the Beautiful," while opera singer Renee Fleming sang the National Anthem.
The Seattle Seahawks beat the Denver Broncos 43-8.