Bruno Mars Postpones 'Twilight' Music Video Release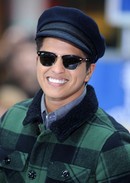 Bruno Mars has asked fans to "be patient" after postponing the music video premiere for the song he has contributed to the upcoming Twilight movie.

The singer was due to debut the promo for It Will Rain, which features on The Twilight Saga: Breaking Dawn - Part 1 soundtrack, on MTV on Wednesday.

However, the Grenade hit-maker won't be able to meet his deadline as the project isn't finished yet.

In a post on Twitter.com, he explains, "Hey guys, I'm still working on the It Will Rain video. The MTV premiere will happen in a couple weeks. Be patient for ya boy. Love y'all."

The next installment in the vampire film franchise is due in theatres next month.