Bruce Springsteen Pays Tribute To Clarence Clemons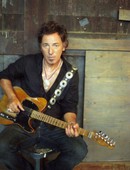 Bruce Springsteen has paid tribute to his "great friend" Clarence Clemons after the legendary saxophonist died on Saturday at the age of 69.

The musician passed away from complications stemming from a major stroke he suffered earlier this month.

Clemons was a regular in Springsteen's E-Street Band and the rocker told fans of his "immeasurable" sadness after hearing the news.

He writes on his website, "He was my great friend, my partner. He loved the saxophone, loved our fans and gave everything he had every night he stepped on stage. His loss is immeasurable and we are honored and thankful to have known him and had the opportunity to stand beside him for nearly forty years."

Following a successful solo career, Clemons became a hit thanks to his outlandish on-stage persona alongside Springsteen after joining his band in 1972

He also enjoyed involvement in hits such as "You're a Friend of Mine" with Jackson Browne and toured with Ringo Starr. He even tried his hand at acting, appearing in The Wire, Diff'rent Strokes and Bill & Ted's Excellent Adventure .

Clemons' last performance with the E-Street Band was in December and the star found a whole new fanbase after collaborating with Lady Gaga on her "Edge Of Glory" track from her recent record "Born This Way."

Married five times, he was father to four sons - Clarence III, Charles, Christopher and Jarod.