Bruce Springsteen Jumps Into Crowd During Concert & Drinks Fan's Beer (Video)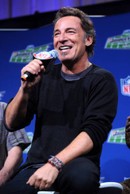 Bruce Springsteen toasted his audience during a gig in Pennsylvania earlier this week when he downed a fan's beer.

The Born in the USA rocker was playing a show in Philadelphia on Wednesday and thrilled fans by leaving the stage during a rendition of Raise Your Hand.

As he mingled with the crowd, he stopped and sat next to one fan - before grabbing the man's beer and gulping it down.

He then toasted the audience as he made his way back to the stage.